Upskill U Gets Back to Virtualization Basics
A mentor of mine once told me that if my employer ever offered to foot the bill for a continuing education opportunity that I should leap at the chance. As a recent college graduate at the time, I balked a little at the idea of "continuing education." After all, I just dedicated four years to gathering all the necessary knowledge I'd ever need, right? Typical recent-grad response.
Well, today, we're in a season of swift change in the communications industry and we can't afford to write tomorrow's business case with yesterday's knowledge base -- especially when it comes to something like network functions virtualization (NFV) which has really turned the industry on its head, and has been the topic of many events and conferences for over three years now.
---
Learn more about real-world NFV strategies and the challenges of orchestration at our upcoming Big Communications Event in Austin., TX, May 24-25. You can register now.
---
You've likely heard the buzz about Upskill U, a free online educational forum from Light Reading and Cisco Systems Inc. (Nasdaq: CSCO) that provides service provider and enterprise decision-makers with the mission-critical education they need to succeed today and in the future. (Watch: Unknown Document 722437.)
Upskill U is closing the knowledge gap by bringing in expert industry lecturers to lead live courses on topics like NFV -- because we know there are still folks out there who need to get up to speed fast on what virtualization means and why it's important.
That's why our first Upskill U course, which launches Wednesday, April 20 at 1:00 p.m. EDT, is Virtualization 101 taught by Roz Roseboro, Senior Analyst, Heavy Reading. This introductory course prepares students for our subsequent courses on virtualization by covering all the important aspects of virtualization, including what it is, why it's important, how it's impacting the industry, the challenges and benefits and more. It will also give a high-level overview of key aspects to consider when moving to a virtualized infrastructure, such as analytics, security, how to take the first steps and where virtualization will have the most impact first.
And as with all Upskill U courses, you'll also have the opportunity to ask your questions in real-time during the post-show web chat.
Taking advantage of these courses couldn't be simpler, and it's a continuing education opportunity that both you and your organization can get behind. Each learning module focuses on one topic from start to finish -- taking you from an introductory knowledge base to a high-level understanding of the topic.
Upskill U courses are free, offered at a convenient time and archived in case you miss something because Jerry from finance won't quit bugging you about your overdue expense report.
So don't be like that post-grad version of me, eager to frame my diploma and check learning off of my life plan. Be more like Bruce Lee, who said...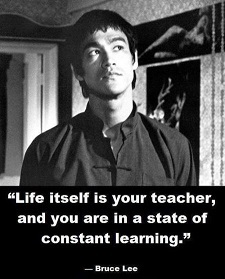 Secure your seat for Virtualization 101 today. If you complete three courses, you'll receive an Upskill U headlamp, because hands-free is the best way to be!
— Kelsey Kusterer Ziser, Editor, Upskill U