LONDON -- OSS in the Era of SDN & NFV – The proposed "zero touch" networking industry group that is set to be formed under the auspices of ETSI has attracted a range of high profile potential members and has the support of Sprint, says the Deutsche Telekom executive who is spearheading the initiative.
With automation and zero touch networking now at the heart of network operator strategic discussions, Klaus Martiny, senior program manager at Deutsche Telekom AG and vice chair of the Network Operators Council within the European Telecommunications Standards Institute (ETSI) NFV Industry Specification Group (ISG), announced late last month that a new industry group was in the works, and since then interest in the group has blossomed, he tells Light Reading here in London.
The basis of the group's formation is some initial work on automation models formulated by a group of 14 companies, including China Mobile, Deutsche Telekom, NTT DoCoMo and Telefónica. But more major companies, including a number of Tier 1 operators, are interested in getting involved, with the aim of identifying and sharing use cases, models and architectures, rather than creating specifications or standards.
"Sprint and other major operators are interested in joining," says Martiny, who is working with other operators on the publication of a pre-launch white paper on automation and working through the ETSI processes of getting the group formally created. "Even major US cable operators are interested so that shows this has broad and very real appeal across the industry," he added.
Barring any last-minute hiccups, Martiny expects the group's "kick-off meeting" to be in early January.
The Deutsche Telekom AG (NYSE: DT) man is a key figure in this initiative, as he is not only a core figure in the ETSI NFV group, but has also done extensive work as part of the Next Generation Mobile Networks (NGMN) Ltd. 's Network Management and Orchestration (NWMO) group, which has "more or less the same purposes" as the proposed new ETSI group. "We expect cross-pollination between the two," says Martiny.
In fact, a big part of the early work of the group will be bringing existing automation ideas and use cases together and "combining work already done, anything that's useful, to bring it all together. We'll also discuss the topic of the common information model… to see if we can create a framework."
Industry collaboration is key to making all of this effort worthwhile, says Martiny, who is keen to ensure the NGMN and the new ETSI group "have good conversations with the open source community…. We need to find a way to communicate and work together," he notes.
And as Martiny displayed during a keynote presentation at the OSS event here in London, there are multiple open source groups, as well as a set of established SDOs (standards developing organizations), with which the NGMN and the new ETSI group could engage. (See below, where the new ETSI group is referenced as ISG ZTM.)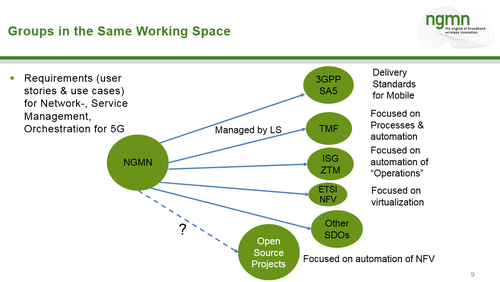 What's clear is that there is a real thirst for information, use cases and ideas about how automation can improve time to market, customer experience and the economics of network operations: While some of the more advanced network operators, particularly those with more concrete virtualization strategies, already have automated processes and a clear vision for what, why and when they are going to do more, many of the world's 1,000-plus communications network operators are seeking guidance and the ETSI group, as long as it can move quickly and not get bogged down in processes and politics, could be a real help in formulating strategic direction.
— Ray Le Maistre, International Group Editor, Light Reading