NFV (network functions virtualization) is just about the hottest trend in communications networking right now, with network operators allocating significant resources (human, technical, financial) to figure out the best New IP strategy for their business needs.
It's crucial, then, that there are independent evaluations of the technology that may be deployed in next-generation networks. That's why Light Reading asked its respected test lab partner EANTC to visit the San Jose, Calif. labs of Cisco Systems earlier this year to conduct a series of validation and verification exercises on a number of Cisco cloud, software-defined networking (SDN) and virtualization platforms. (See Validating Cisco's Service Provider Virtualization & Cloud Portfolio.)
More recently, the EANTC team returned to San Jose to evaluate Cisco's NFVi. The first part of the resulting report, which provides an overview of the aims of the evaluation, a look at Cisco's NFVi and an in-depth, multi-page performance evaluation of Cisco's virtual switch technology, has already been published -- see Validating Cisco's NFV Infrastructure Pt. 1 and Cisco's vSwitch Makes the Grade.
Part 1 of the report can also be downloaded in PDF format: click on this link to download Part 1.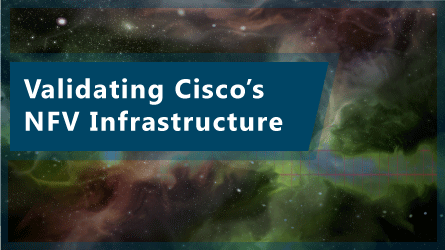 Now we have part two of the report to share, which delves into: Carrier-grade high availability and reliability; the integration, features and performance of two key applications -- Virtualized Video Processing (V2P), previously referred to as Cloud DVR, and virtual EPC (evolved packet core); and an evaluation of Cisco's "single pane of glass" management capabilities with regards to its NFVi.
Here is what is covered in Part 2 of the report on the following pages:
Page 2: Carrier-grade high availability and reliability of Cisco's NFVi
Page 3: Automated and validated OpenStack installation
Page 4: Centralized logging and Runtime Network Regression Testing
Page 5: High availability
Page 6: Putting VNFs to the Test
Page 7: Cisco's Virtual Packet Gateway VPC-DI
Page 8: Single Pane of Glass management
— The Light Reading team and Carsten Rossenhövel, managing director, and Balamuhunthan Balarajah, test engineer, European Advanced Networking Test Center AG (EANTC) (http://www.eantc.de/), an independent test lab in Berlin. EANTC offers vendor-neutral network test facilities for manufacturers, service providers, and enterprises.
Next page: Carrier-grade high availability and reliability of Cisco's NFVi