Communications service providers are pressing ahead with deploying virtualized functions, but their strategies for what to virtualize and the pace at which they are moving varies widely, according to Heavy Reading's latest Future of Virtualization survey.
As mentioned earlier, many CSPs aren't convinced virtualization in itself will save them where operating expenses are concerned, but the Heavy Reading survey clearly shows a determination to get started by virtualizing some functions, most often network functions, says Rosalyn Roseboro, who conducted the study and authored the report. You can read and download the entire report from the Virtualization Research Portal of our Virtuapedia site, located here. (See Could Delayed Opex Savings Slow SDN/NFV?)
Almost all -- 96% of the 40 service providers invited to participate in the survey -- have identified at least some functions they plan to virtualize by 2020, and more than half have identified most or all of what they plan to do by then. But there is less of a rush to get that full plan in place in this survey than in the earlier version, conducted in late 2015. Only 23% of responding CSPs say they'll identify all the functions to virtualize by the end of this year, compared to 38% six months ago.
"They all want to do it but as they start down the road they realize it is more complicated than they thought," Roseboro comments. "The extreme confidence in their ability to identify all the functions they want to virtualize went down, but the group that is 'somewhat confident' grew."
The Heavy Reading analyst says service providers are looking carefully at the business case for each function and "aren't going to virtualize something just to do it." Since the business case for virtualization can vary depending on the size of the operator, location and existing services, it makes sense that deployment schedules are a bit all over the map.
For example, only 71% say they have at least some of their high priority functions in production, down from 85%, but a small group (4%) indicates having between half and three quarters of those high-priority functions in process.
And while there is greater certainty on virtualization timetables -- only 18% don't have one yet -- a growing number of operators are pushing those timetables forward to 2019 and beyond.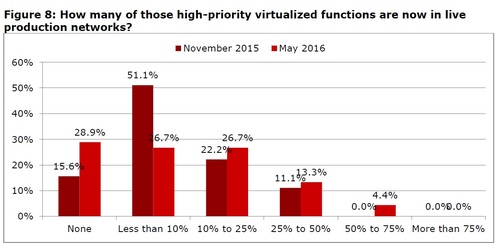 More than 80% say they are spending more on virtualization this year and will increase that spending even more over the next two years. Yet virtualization represents 10% or less of capex budgets this year for almost two thirds of respondents (62%).
"There are the early adopters, the companies that are moving ahead aggressively and then there is a big chunk of them who are in wait and see mode," Roseboro says. "Most of those are still doing PoCs [proofs of concept]."
---
Get up close and personal with service provider NFV strategies in our NFV Elements section here on Light Reading.
---
They also are looking at primarily using virtualization to address a new geography or a new service, and seem much less interested in moving existing services over into the virtualization realm, she notes.
"Moving over existing services is extremely disruptive, and you don't find many CSPs who are looking at doing that now," Roseboro says.
The survey doesn't ask operators how they plan to virtualize -- whether they are moving services into the cloud, deploying functions on bare metal servers or hypervisors -- but focuses on planning, deployment and spending plans.
Interestingly, a growing number of CSPs expect to complete their entire virtualization transformation by the end of 2020 -- a date AT&T Inc. (NYSE: T) has been very public in stating. Almost half -- 45% -- expect to join Ma Bell in the fully virtualized camp, which is up significantly from 31% in November.
— Carol Wilson, Editor-at-Large, Light Reading