NFV isn't magic. Although it provides many benefits, it takes much hard work to get there.
In a Prime Reading report based on our recent NFV Everywhere conference, Light Reading looks at the challenges faced by network operators that have implemented NFV as part of their New IP transition, including Telefónica, TELUS, AT&T, Masergy and Comlink, along with insights from some key vendors and Heavy Reading analysts. (See Getting to NFV Everywhere.)
Lessons learned include the difficulties of achieving vendor independence, why cultural changes matter and how business needs to drive technology.
It's a daunting job. So why bother?
The answer can be stated in two words, said Shawn Hakl, VP enterprise networking and innovation at Verizon Enterprise Solutions (See Verizon Dubs Virtualization Exhilarating, Exciting & Terrifying):
Cat videos.
Verizon needs innovative networks because its enterprise customers' demand for bandwidth is exploding. Enterprise bandwidth demands are increasing 40% annually, but budgets aren't growing to match, Hakl said.
And Verizon customers are trying to run enterprise apps on the same network as cat videos (and other consumer Internet use), taxing traditional networking technology past its ability to deliver.
Running enterprise applications on a global IP network (the Internet) that's shared by consumers (and their cat videos) requires new tools that can help those enterprise applications perform up to required standards. For example, Verizon recently introduced SD-WAN, which lets enterprise customers adjust network performance based on application requirements.
Fortunately, network operators don't have to go it alone. They've got their peers to back them up and vendors to partner with.
And the cats, aware of the problems they've caused, are helping out: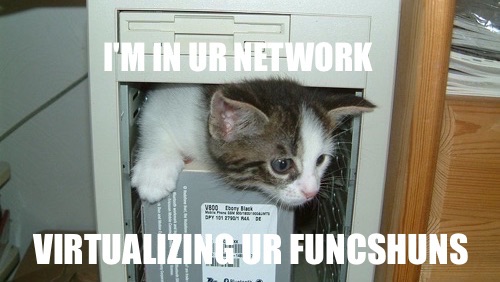 But enough cat jokes. For an in-depth -- and serious -- look at the challenges of network virtualization, read our Prime Reading report: Getting to NFV Everywhere
— Mitch Wagner,

, West Coast Bureau Chief, Light Reading. Got a tip about SDN or NFV? Send it to [email protected]