Smokey & the NFV Bandit
As highlighted in the recent Light Reading article Is NFV Headed for a Cliff?, industry critics are saying that "NFV is fundamentally broken, and fiddling around with specifications and standards isn't going to solve that problem."
The sentiment was highlighted by a screenshot from 1991 movie Thelma & Louise, with the car about to go over the cliff.
ADVA, our customers and our partners have a different view. As in the 1977 movie Smokey and the Bandit, our sentiment is that "We're gonna do what they say can't be done."
And we have.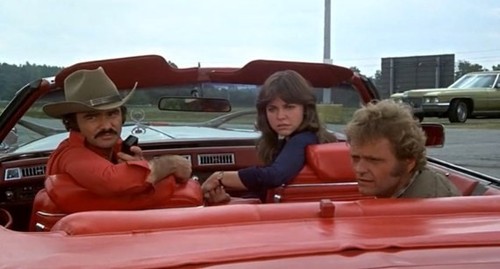 NFV isn't perfect, but it is being deployed today to deliver innovative solutions. Furthermore, sophisticated end users are rejecting vendor lock-in and demanding virtualized solutions for the implementation of managed services. Networking appliances and single-purpose software installations (a.k.a. "bare metal") are no longer acceptable.
SD-WAN as a driver
It took us a lot longer than the Bandit's 48-hour run to get here, and we had to solve many problems along the way. In the end, it took a new application to break the logjam -- SD-WAN.
Operators are deploying SD-WAN because of customer demand, and realize that the old approaches of networking appliances and bare-metal installations are not satisfactory. They need NFV in a universal CPE deployment model and here's why:
They want a true multivendor system with best-of-breed suppliers.
Separation of hosting from network functions enables dynamic service deployment.
An open hosting platform is required to give end users the SD-WAN and firewall flavors they want.
There are too many suppliers of SD-WAN today, and there will be consolidation. Decoupling SD-WAN from the network infrastructure ensures vendor independence and reduces risk.
A software-centric model with hardware abstraction allows the customer to deploy on a range of COTS servers that fit their requirements.
All of the drivers above combine to empower true innovation in the network.
The long tail of applications
The initial deployments of NFV are being driven by managed SD-WAN and firewall services, but end users and operators quickly realize that an open and virtualized hosting model enables a long tail of other services and applications. These include networking applications such as WAN optimization, deep packet inspection (DPI), virtual test agents and IoT gateways. They also include the ability to host end-user applications in a micro-cloud environment.
In short, operators can now host any function of interest at the edge.
---
Deep dive into real-world issues and virtualization deployment challenges with industry leaders. Join Light Reading at the annual Network Virtualization & SDN Americas event in Dallas, September 17-19. Register now for this exclusive opportunity to learn from and network with industry experts. Communications service providers get in free!
---
Breaking up the monoliths
One of the knocks against NFV in the "cliff" article was the monolithic nature of today's virtual network functions (VNFs). It is true that most VNFs today are monolithic. It's also true that most of the VNF suppliers are also working on containerized versions of their software. The beauty of an NFV deployment model is that operators can start with today's monolithic VNFs, and then migrate over time to containerized functions. In other words, it's a future-proof model.
Even more importantly, NFV is a big step towards the larger industry goal of disaggregation. You can see evidence of this trend with the data center move to SDN and white box switches, as well as with the emergence of multivendor optical transport. NFV provides the same path to disaggregation for telco services and edge cloud.
The key to finishing is to start
There's still work to do to make NFV easier, more automated and more cloud-native. But that's no reason to wait. Operators and enterprises are deploying NFV today to drive the services of tomorrow. And waiting for perfection won't stop that -- it will just encourage your customers to find a new service provider with their foot hard on the pedal, ready to help them innovate now.
— Prayson Pate, Chief Technology Officer, Edge Cloud, ADVA Optical Networking