Most of the vendors that have developed NFV orchestrators (NFVOs), which are key to the management of virtualized networks, have aligned themselves with a significant open source development, with ONAP attracting the most participation.
That's one of the findings contained in a new report from Heavy Reading , "NFV Orchestration: Evolving Ecosystems & Solutions," which looks at NFVO developments and the key vendors playing a role in that sector.
NFV orchestration plays a critical role within the broader set of MANO (management and orchestration) capabilities: NFVO tools are responsible for resource orchestration (the orchestration of NFV infrastructure resources across multiple virtualized infrastructure managers) and network service orchestration (the lifecycle management of network services).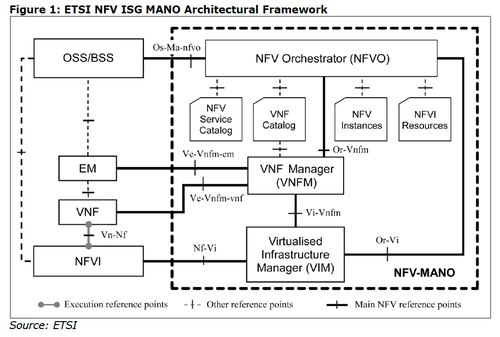 As you'd expect, then, the vendors that have developed NFVOs are mostly very familiar names from the virtualization/NFV community, including Amdocs, Cisco, Ericsson, HPE, Huawei, Juniper, Netcracker and Nokia, among others.
The report's author, Heavy Reading principal analyst Roz Roseboro, notes that "most NFVO vendors are engaged with at least one of the main open source MANO projects," with Open Network Automation Platform (ONAP) attracting the most support, the Open Source MANO Community (OSM) fewer. (See ONAP Says Its Beijing Release Is Market-Ready and ETSI's Open Source MANO Gets a Makeover.)
"Vendors engage with open source projects for a variety of reasons -- to help drive strategy [of the project], to keep up with industry needs or to integrate elements of the projects into their own products. Even those who are not engaged are often still keeping track of the projects' progress," she adds.
There's also the chance that network operators might demand ONAP or OSM capabilities in their RFPs -- leaving those vendors not engaged out of the running. Roseboro notes in the report that both ONAP and OSM are building momentum, "leaving it unclear what role vendor solutions will play."
Of the 14 vendors covered in the report, 11 are members of ONAP, while only three are OSM members. Notably, those three -- ADVA, Netcracker and Nokia -- are also members of ONAP, and so are really covering their bases (and clearly have the resources to do so).
Some NFVO vendors are members of neither: Those companies tend not to be open source "true believers," notes Roseboro. Some, though, would struggle to have the resources to participate. Among the 14 vendors covered, three are not members of either ONAP or OSM -- Oracle is one (and would clearly have the cash and bodies to play a role in open source developments if it wished) while the other two are much smaller specialists, EnterpriseWeb and Anuta Networks.
---
Deep dive into real-world issues and virtualization deployment challenges with industry leaders. Join Light Reading at the NFV & Carrier SDN event in Denver, September 24-26. Register now for this exclusive opportunity to learn from and network with industry experts – communications service providers get in free!
---
Whether members of ONAP, OSM or neither, the NFVO vendors know they need to deliver software that is not limited to managing only their own technology. Multivendor capabilities are much touted, and have been for years, yet it remains one of the key stumbling blocks to commercial NFV deployments. Naturally, all the vendors covered say they can support virtual network functions (VNFs) from other suppliers, but key to the attraction of the open source developments is, as Roseboro notes, that the ONAP and OSM camps "believe the industry wants and needs something that can fully support all vendors' VNFs."
Well, the network operators certainly want that: Others, maybe not so much.
— Ray Le Maistre, Editor-in-Chief, Light Reading