Stephen Elop is back. The technology industry executive who gained notoriety and a $25 million golden goodbye for selling Nokia's device division to Microsoft, and then landing the top devices job at the software giant, has landed a senior position at Australian national operator Telstra Corp. Ltd. (ASX: TLS; NZK: TLS).
Elop has held a number of senior communications technology positions in his time, including: chief operating officer at Juniper Networks Inc. (NYSE: JNPR); head of the Business Division at Microsoft Corp. (Nasdaq: MSFT); CEO at Nokia Corp. (NYSE: NOK); and then, having engineered the ill-fated sale of Nokia's mobile phone business to his former employer, executive vice president of the Microsoft Devices Group, a job he lost in July 2015.
Here's a snapshot of his career progression during the past ten years and some of Elop's landmarks during his time at the helm of Nokia, where he became famous for his "burning platform" memo to the Finnish company's staff. It was also a role that landed him with the unwelcome label of "Trojan Horse" (which he denied, naturally) and a seat in the shadier corner of Light Reading's Hall of Fame:
Now 52-year-old Elop has been appointed to a new role at Telstra, that of group executive technology, Innovation and Strategy, reporting to CEO Andrew Penn. He starts on April 4.
In the official announcement of the appointment, Penn noted: "Stephen will immediately add major firepower to our team with his extensive and deep technology experience and an innate sense of customer expectations. He is a recognised international technology leader and strategist from across a range of global organisations." [Editor's note: Please feel free to share your views on our message board below.]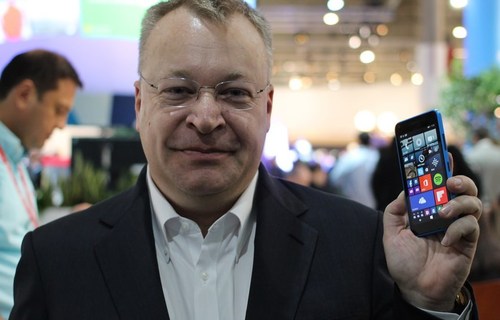 Elop isn't the only new appointment at Telstra: Kevin Russell, a former senior executive at SingTel Optus and the Hutchison Whampoa Group, is joining in April as Group Executive Telstra Retail, "leading the company's consumer, business, stores and product functions." He is currently the CEO of a wireless networking technology startup.
Elop and Russell join Telstra as the Australian operator starts to make a significant mark on the global next generation networking stage.
The operator acquired Pacnet in April 2015, a move that not only expanded its international presence but also gave it some industry-leading SDN capabilities, which it has since developed, resulting in the launch in January this year of a range of SDN-enabled services. (See Telstra Snaps Up Pacnet for $697M, Telstra Goes Global With Pacnet's NaaS Offer and Telstra Rolls Out New SDN Services.)
More recently, on its home turf, Telstra has developed and launched an innovative range of services for enterprise and small business users based on virtualization technology from Cisco Systems Inc. (Nasdaq: CSCO). (See Telstra Develops SDN-Enabled Services With Cisco.)
As the head of technology, innovation and strategy (that's going to make for a long business card), Elop should be at the heart of those developments. He won't be as easy to track down at Telstra HQ as his top management team peers, though: Elop will be "based jointly in the United States and Australia," notes Telstra. That can only be good news for Qantas.
— Ray Le Maistre,

, Editor-in-Chief, Light Reading