AMSTERDAM -- Open Networking Summit Europe -- Deutsche Telekom's Axel Clauberg burst the cloud-native bubble here this morning with a warning to the telco cloud community -- don't turn a potential paradise into a hell.
Clauberg, who has invaluable experience from the technology side (13 years at Cisco) as well as seven years at Deutsche Telekom AG (NYSE: DT), is as keen as anyone to see the vendor community develop applications and network functions that are "cloud-native" -- designed from the ground up to have the flexibility, openness and scale to work in a cloud platform environment. "The movement toward cloud-native development makes me feel very positive," Clauberg told Light Reading during a recent extensive interview. (See NFV 1.0 Is Passé; Cloud Native Is Coming and page 2 of DT's Terastream: A Bigger Splash?)
And there has been much trumpeting about the shift towards cloud-native here in Amsterdam this week. (See Linux Foundation Networking & Cloud Native Computing Foundation Get Jiggy.)
But… in a keynote presentation to an auditorium of open source developers here, he delivered some strong words of caution. He noted that some advocates are positioning cloud-native development as a "paradise," but that "paradise can develop into hell. Is that what is happening with cloud-native? I'm not sure," he noted.
Much shuffling in seats ensued (but at least no-one shouted out that he was a heretic…).
He reminded everyone that the NFV transformation was always going to take time, though like all other operator executives he had expected developments to have been further along the road by now. He also noted that he understood the initial reluctance among vendors to commit totally to re-architecting their products to be cloud-native while they were still in legacy product cycles.
But dropping pure cloud-native applications into a telecom environment isn't going to work, he noted. "Cloud-native is not easy … it will not solve all of our problems … Anyone without experience of the current [telecom] paradigm will fail with cloud-native," he stated.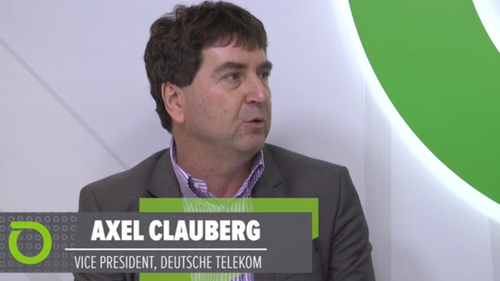 Clauberg went on to explain that simply developing a pure cloud-native application wouldn't be enough: Any development would need to take into account the need for networking, orchestration and automation (and how AI will play a role in that process), security and "operationalization." Both sides of the equation need to be taken into account, with a middle ground established that incorporates the needs of communications service providers as well as the innovation of open source developments.
---
How will service providers enable automated and efficient network operations to support NFV & SDN? Find the answers at Light Reading's Software-Defined Operations & the Autonomous Network event in London, November 7-8. Take advantage of this opportunity to learn from and network with industry experts – communications service providers get in free!
---
Such considerations are critical as open source plays an increasingly important role in operator strategies: For example, the Linux Foundation's Open Network Automation Platform (ONAP) initiative has attracted an increasing level of support from operators, despite its current issues. (See ONAP Says Its Beijing Release Is Market-Ready, LF Networking Fund Boasts New Carrier Members and Vodafone's Heeran: Defining the Telco Cloud.)
And Clauberg is fully behind the introduction of open source into telecom: He noted that there have been "some doubters," but that this is now an important trend for the industry: It just needs to be approached with a telecom perspective if it's going to work.
— Ray Le Maistre, Editor-in-Chief, Light Reading