Arista's CEO Shares Her Guiding Principles
Steve Jobs; her angelic sister Susie; and her father, a renowned physicist, are among the people Jayshree Ullal credits as being the great influencers in her life and her impressive career.
Through her experiences over three decades in the tech field, Arista Networks Inc. CEO Ullal says she's come to realize that it's not textbooks and formal educations alone that make great leaders -- rather, she says they are born naturally and shaped by their special skills and experiences. In addition to these three people in her life, Ullal also has three guiding principles that have shaped her Silicon Valley career. They include:
Pursue your gift and passion; believe in your mission; trust your gut and believe with passion.
Seize opportunities to make small or big impacts based on key decisions you take in the paths you traverse. "No one can predict the future but you can trust yourself and follow your convictions or whatever governs your belief system. Create your destiny, your turning point," Ullal says.
Value human relationships and connections, be they your loved ones, friends, family or your business colleagues.
Ullal's track record as a leader and technologist at the helm of networking infrastructure vendor Arista Networks, building the network operating system that powers the switches and routers for the Internet, earned her a finalist spot in both Women in Comms' Tech Pioneer of the Year Leading Lights award and Light Reading's 2016 Hall of Fame. (See WiC Leading Lights Finalists: Hedy Lamarr Award for Female Tech Pioneer of the Year and Hall of Fame 2016: The Candidates.)
Here, she shares more of her insights with WiC on the lessons she's learned over the course of her storied career.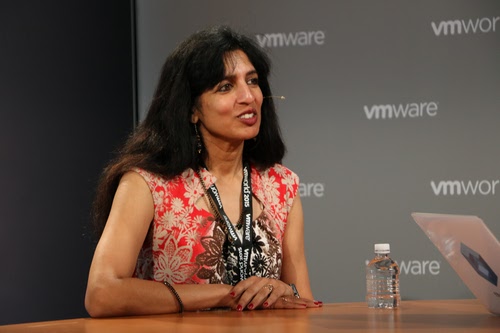 ---
Interested in joining Women in Comms on our mission to champion change, empower women and redress the gender imbalance in the comms industry? Visit WiC online and get in touch to learn more about how you can become a member!
---
Women in Comms: What is your leadership style?
Jayshree Ullal: Arista was built and continues to thrive on passionate and talented people who make up the culture. That's my style; to cultivate that. We call this the "Arista Way," and the statements illustrate the culture at the company. For example, "Drive for customer success in every aspect: support, quality, innovation and experience." Doing the right thing is part of our heritage and it's no coincidence that it's core to our internal philosophy. My leadership style is based on this. I believe in great leaders and contributors who move the needle, not incrementalism.
WiC: What has been the most important lesson you've learned over your 25-plus year career?
JU: Events and experiences shape our lives. Six years ago, I lost my younger and only sister to lung cancer. Susie was only 46 years and the most angelic human being, connected to not only her family, but to her friends, community and beliefs. She has taught me the greatest and most valuable lesson in leadership -- to deeply appreciate our lives and the connections we make. Don't judge them, but cherish them. As human beings we all want to do a good job, be acknowledged and crave that appreciation. Treat your peers and team respectfully, cultivate their inner strengths and harness their full potential. My sister lived this and influenced me deeply. Although we couldn't save her life, her voice and motto lives within me always.
WiC: How have you maintained your company culture as you've grown from a startup to an established company?
JU: One of the main factors in retaining a startup feel is our unwavering focus on our mission and traits -- bring cloud scale to the data centers. While we have grown rapidly, we remain nimble both in our thinking, and in our ability to identify and solve complex customer problems with innovative engineering and agility. When the entire company is aligned and focused on common goals, we remain true to our entrepreneurial culture that we call the "Arista Way" and retain it with great pride.
WiC: How have changes in cloud computing affected your career path?
JU: After my career in multiple networking companies, including the acquisition of crescendo into Cisco, it was difficult to imagine greater growth success having experienced and contributed $0 to $10B of enterprise switching in a decade. My desire to go back to my entrepreneurial roots and start from the bottom rung to build a great company and culture motivated my next career path. It was also fraught with risk and trepidation.
When I joined Arista (Andy and I renamed it from Arastra), I began seeing and extrapolating a new vision for cloud networking. We entered the market in 2008 with low latency but the mission was bigger. A mission impossible: to disrupt the status quo and create a new modern cloud network. Through the past eight years we have achieved unimaginable growth and a leadership position.
Arista has differentiated from legacy networks by creating SDN before the term became fashionable. When Arista was founded, it was cool to fund Zynga, Facebook or LinkedIn, not infrastructure. I like to say we made networking cool (and sexy) again through:
A purpose-built, cloud networking platform with diverse "merchant silicon."
We built the game-changer for the cloud industry with the first open and fully programmable software stack, Arista EOS (Extensible Operating System), that simplifies and accelerates customer adoption.
Building an awesome team of engineers and executives who bring innovation and disruption to our customers.
By not doing it solo and building a strong ecosystem of partners in security, storage, compute, media and virtualization to build a best-of-breed solution.
WiC: As a female CEO in the tech industry, what's your biggest piece of advice for other women looking to progress to the top?
JU: Well, my advice for both men and women is the same, independent of gender. I would say: stay passionate, create your turning points and appreciate your human connections. For the women, I would say many have an intuitive gift of understanding and dealing with people uniquely that can be purposed well in high technology.
— Sarah Thomas,

, Director, Women in Comms