If Hewlett-Packard hoped to make things simpler by splitting itself into two companies with two different names, the telecom industry generally says it failed, according to Light Reading's latest, highly unscientific, reader poll.
The largest group of respondents at 39% said the creation of Hewlett Packard Enterprise as the entity selling enterprise and service provider technology doesn't really matter much -- they don't care about the name change, which also put the printer division under the simpler HP Inc. (NYSE: HPQ) moniker. (See Hewlett Packard Enterprise Is Born.)
Among those who seem to care, 29% said the name changes actually confuses things and makes them harder. Perhaps anything beyond the two simpler letters "HP" seems difficult in an industry obsessed with acronyms. Eleven percent would have preferred HP Cloud because, of course, everything's easier to understand when you put it into the cloud.
A frisky 21% opted for the cheeky response questioning whether this means printer ink will now come directly through the network.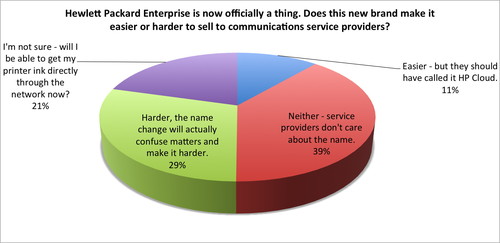 To be fair, name changes are always tough at the start. "Alcatel-Lucent" didn't roll off the tongue out of the gate and even well established brands such as Verizon Communications Inc. (NYSE: VZ) were once odd new names that no one could remember how to spell. Obviously this is why Cisco Systems Inc. (Nasdaq: CSCO) buys dozens of companies and just brings them under the Cisco brand.
What HPE clearly needs is a major new branding campaign -- our sales staff will be in touch -- and to resign itself to rapidly becoming just HPE.
— Carol Wilson, Editor-at-Large, Light Reading