ONAP's Casablanca Focuses on Deployability

Comment (0)
You might expect something romantic from a software release named Casablanca, but ONAP, the open source project focused on orchestration and automation of virtualized networks, instead focused today's announcement on the practicality of the updates which it says is more modular and easier to deploy, and for the first time offers support for physical network functions as well.
Open Network Automation Platform (ONAP) 's Casablanca release was focused on global deployment and automation, says Arpit Joshipura, general manager, networking, The Linux Foundation , as the software platform is being used globally by a growing number of operators and adopted as well by a larger ecosystem of vendors.
"Casablanca addresses the three most important things that people are interested in," Joshipura said in an interview. First is increased diversity in members, contributors and standards development organizations, he says, leaving ONAP less dependent on its earliest backers, including AT&T Inc. (NYSE: T), Huawei Technologies Co. Ltd. and Amdocs Ltd. (NYSE: DOX).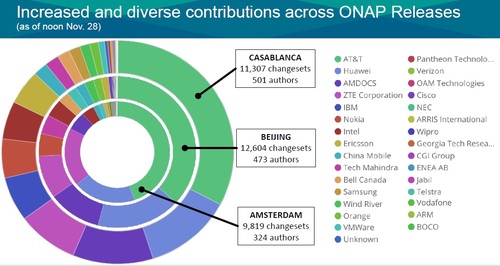 "The second one is the actual release with global deployment focus so it is definitely bigger than Beijing, lots of new features, some new blueprints, significant new factors on deployability," Joshipura says. These are focused on 5G readiness but also becoming more containerized and cloud-native. "And then the final thing which is the end-user and the commercial ecosystem and this is what we call cross release - across carriers, across VNFs, across controllers, across vendors, across projects. It is truly becoming a platform that people can use and deploy and sustain."
Better documentation
ONAP's Technical Steering Committee Chair Catherine Lefevre of AT&T tells Light Reading Casablanca also addresses a key area where ONAP has come under a bit of fire of late, and that is in documentation, which some vendors, in particular, make it hard to implement.
"ONAP solution documentation has been an area of community focus in Casablanca, including updated blueprint collateral, a new architecture white paper, video demos, and more," Lefevre says. She cites specific examples including installation, deployment and debugging guides and improved documentation in formal ONAP training courses run by the Linux Foundation, as well as additional materials including videos/demos and white papers developed by use case owners/integration team/Project Technical Leads as part of Casablanca.
"Additionally, within the documentation itself, there are far fewer links caused by developers simply punting their answer from the official documentation set and back into the wiki," she comments.
Going forward, ONAP plans for 2019 "include ONAP certification and compliance and verification, with documentation on deployments and requirements" such as links to VNF requirement docs, Lefevre adds.
"The ONAP TSC recognizes that we still need to improve the ONAP documentation, and additional steps are being taken to address this," she says. Those steps include "Document as You Code", an initiative that focuses on improving the documentation all along the release cycle and creation of a TSC task force to review "the documentation gap" and fill in those gaps in coming releases with specific user stories from project team leaders.
Some surprises
Heavy Reading Senior Analyst James Crawshaw notes that while massive change can't be expected from software releases made on a six-month schedule, based on how Casablanca is described it "is incrementally more modular and incrementally easier to deploy." He also applauds the increased support for PNFs, given that "networks will remain a hybrid of physical and virtualized functions for a very long time, probably forever."
Crawshaw admits he was interested to see one new ONAP convert, India-based wireless operator Reliance Jio , given that "Jio has only been in operation for two years, so I'm surprised they are looking to make changes so soon." The carrier says ONAP is playing an important role in its network automation and transformation, with more than 100 engineers working on the platform.
"I'm also surprised to see Accenture offering hardened, supported ONAP software," Crawshaw comments. "Other companies that have made a success of that model with enterprise Linux are skeptical they can do the same with ONAP."
Joshipura points to a growing base of operators including Orange, which made ONAP mandatory for its 5G buildout and China Mobile Communications Corp. and Vodafone Group plc (NYSE: VOD), which developed a working demo for inter-carrier orchestration for cross-carrier virtual private networking using ONAP, with more proofs of concept planned.
The China Mobile-Vodafone work was upstreamed into Casablanca as a new blueprint, the Cross Domain Cross Layer VPN Blueprint, Lefevre notes. It provides a high-speed optical transport network on and end-to-end basis using ONAP instances deployed on the different sides. "It is one of the major cornerstones of the release, demonstrating an excellent partnership between two carriers," she says.

For its part, AT&T has adopted an "ONAP first" strategy that requires its software developments on the platform to be up-streamed first and then consumed from the community, Lefevre says.
Casablanca's 5G blueprint is designed to extend zero-touch orchestration and automation to the radio access network, with PNF integration of hybrid radio and network optimization designed to address the higher volume of incoming data and the need to quickly analyze that data, Lefevre says. ONAP has targeted 2019 for a multi-release blueprint to fully automate 5G networks.
---
Want to know more about NFV and Open Source strategies? Check out our dedicated NFV content channel here on Light Reading.
---
Casablanca also features Hardware Platform Awareness (HPA), a feature which includes all controllers, and is a feature "you'll be hearing a lot about," Lefevre comments.
"We can do uniform management of VNFs under a new module called the controller design studio, which you can define the parameters of VNFs from one to seven, and you can support PNFs, can scale out to migrate the traffic from one VNF to another one," she comments.
As part of the Casablanca release and Open Platform for NFV Project Inc. 's Gambia release, which came out earlier this month, the two organizations are now doing joint verification and compliance, bringing ONAP under the OPNFV Verification Program (OVP) to enable easier verification testing for the full range of virtualization elements from VNFs, to the NFV infrastructure (NFVi) and more.
Related posts:
— Carol Wilson, Editor-at-Large, Light Reading