CenturyLink to Open Source NFVi Orchestrator

Comment (0)
LOS ANGELES -- Open Networking Summit -- CenturyLink is preparing to contribute part of its NFVi orchestration process to the open source community, even though the operator isn't yet ready to join ONAP, which is the largest orchestration open source project.
Adam Dunstan, vice president of SDN/NFV Engineering for CenturyLink Inc. (NYSE: CTL), explained in a presentation here and in an interview that his team has taken a bit of service logic out of an Open Network Automation Platform (ONAP) module and repackaged it as part of its NFV orchestration process, calling it Victor, and now intends to release that into open source. Once the legal details are sorted, the contribution will likely go into ONAP -- which CenturyLink has contributed to before. (See ONAP Adds Verizon, Claims De Facto Title.)
Because CenturyLink is charting its own path and develop its own tooling, however, the company likely won't be plunking down the dollars required to formally join ONAP anytime soon, Dunstan says. (See CenturyLink Touting New MVP.)
"We continue to consider it but we haven't used a lot of the tooling and so if you are not really using the tooling then it limits the benefit of joining, so that's why we haven't," he says in an interview here. "ONAP is a big complex system and putting aside opinions on the whole thing, CenturyLink already has a big complex system, getting it all to fit together is a challenge. Also we now have the Level 3 systems. Going off and adding another whole thing doesn't make sense. We have to get much more granular about what we do."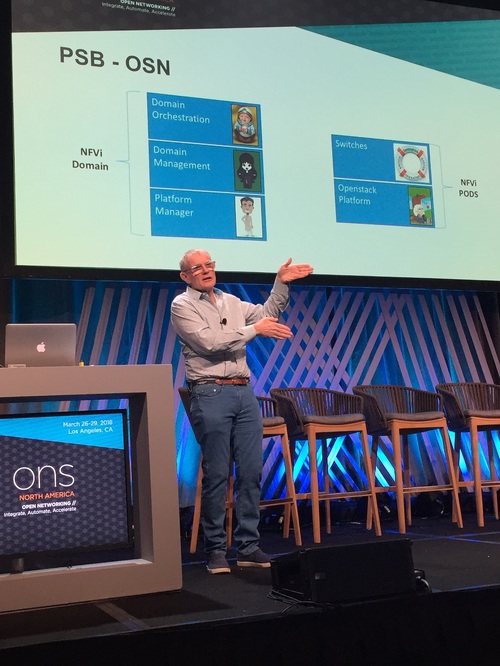 As ONAP's proponents note, it is a modular system and can be consumed that way, but CenturyLink is getting even more granular than that. It extracted what it calls the Service Logic Interpreter from within one of the modules, Dunstan says, and took it out of OpenDaylight and back into Java to create Victor.
Victor is a microservice that runs inside containers and its job is "to do one thing and one thing well - spin up something automatically and let the system know that happened, and then his job is done," he explains. A separate system handles domain management and the two are compared for consistency through an automatic process.
"What an operator does is, they go and create a service template or a service graph or service definition. It's all done graphically and it looks very similar to what ONAP did," Dunstan says. "It uses the same tooling, and that lets you go and create the service model. What we did in addition to that, that service model generates a basic UI and the Web services associated with it."
That latter part is important because it solves another problem that CenturyLink and other operators face when their network teams have to work with their IT teams on back-office processes. Too often, Dunstan says, the network guys speak in their own language to IT folks, whose expertise doesn't include understanding things like MPLS and labels. Making things work between the two organizations can slow things down, but Victor provides an abstraction for all of that.
"The network guys create the service model and this graphical programmatic tool. It then creates the web service, documents the web services automatically, creates a simple UI for it, and I can hand it to the IT guys," he explains.
Next page: Reducing complexity to move forward faster