SANTA CLARA -- Open Networking Summit -- AT&T is lifting the hood on the massive two-year software development of the network engine known as ECOMP and promising to share it in open source -- if the industry responds positively to that idea.
In a blog post made today and in his keynote address here, John Donovan, AT&T Inc. (NYSE: T)'s chief strategy officer and group president of AT&T Technology and Operations, pointed to the release of a white paper on ECOMP -- which stands for Enhanced Control, Orchestration, Management and Policy -- intended to clue the cloud community in on AT&T's vision for automating the network services and infrastructure.
He stopped just short of committing to an open source release, saying that will depend on how the cloud and developer communities respond to the ECOMP vision.
"We need to know you are willing to collaborate with us, to contribute your time, your effort and your code to this initiative," he said. "And we are moving quickly -- think weeks or months, not years, so don't wait."
He directed that feedback here: [email protected]
AT&T has been talking about ECOMP for some time now and also has been increasingly willing to share internal developments as open source code. The decision to share ECOMP as open source takes on greater importance, however, against the backdrop of fragmenting industry efforts to develop critical management and orchestration standards. (See AT&T Makes Case for Open Source Sharing, Major Change Afoot in Managing Virtualization and AT&T's Chiosi: Unite on Open Source or Suffer.)
"This document, like the seminal ETSI NFV ISG document, provides a basis for putting the industry on the same page," notes Caroline Chappell, Heavy Reading practice leader for cloud and NFV. "One of the industry's persistent problems is the lack of consistent terminology, which this provides, and it is helpful for a single organization with the vision and market influence of AT&T to come out with such a complete view. It is ahead of the standards organizations."
Other operators, including BT and Telefónica, have been pushing as well for this kind of effort. For AT&T, the effort is even more urgent as the company forges toward its goal of 75% virtualization by 2020: That can't happen without the kind of comprehensive operations roadmap that ECOMP describes.
As Donovan explained in his blog, ECOMP "is an infrastructure delivery platform and a scalable, comprehensive network cloud service" which "provides automation of many service delivery, service assurance, performance management, fault management and SDN tasks." While designed to work with OpenStack, it is extensible to other cloud and compute environments, he noted.
"ECOMP is the engine that powers our software-centric network," he said. "ECOMP is one of the most challenging, complex and sophisticated software projects in AT&T's history."
Chappell notes that AT&T has adopted a tiered infrastructure and applauds its decision to structure management within those tiers, and appropriately define the role of the MANO, or management and network orchestrator, as confined to managing virtual network functions (VNFs).
"What I think AT&T has rightly recognized is that there are three tiers: there are infrastructure resources; there are network applications, or the VNFs; and there is service orchestration. These things need to be layered appropriately," she says. "In the ETSI NFV MANO specifications document, there is a lot of uneasiness in the way things were described. AT&T has done a good job of putting infrastructure management at the infrastructure layer, using the MANO to manage VNFs and then using a master service orchestrator for the end-to-end view."
ECOMP is model-driven and intended to speed service delivery on a next-gen cloud platform that is vendor-agnostic. It doesn't directly support legacy OSSs, but is designed to work with them in supporting virtual and physical elements. AT&T also states in the white paper that, since industry-wide standards aren't yet available and aren't coming fast enough, it will be using its own "standard processes to rapidly onboard vendor-developed virtual network functions and will operate those using vendor-agnostic controllers and standard management, security and application interfaces."
That means using model-driven configuration and management based on Yang and then putting standards in place as they become available.
ECOMP establishes two major frameworks: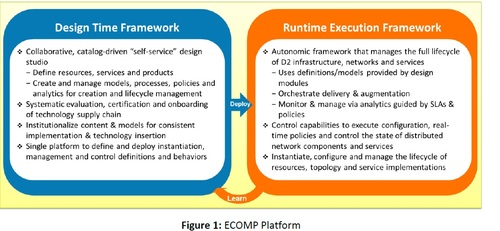 Supporting those frameworks are eight software subsystems. The two major frameworks are established to support the critical goals of ECOMP: creating an architecture that is policy and metadata-driven and able to source best-in-class components; developing common capabilities once and re-using them many times; supporting many AT&T services using the same core capabilities; and enabling elastic scaling to grow or shrink the network.
In the Q&A session following his keynote, Donovan was challenged by a representative of China Mobile, referring to that company's initiative, launched at Mobile World Congress, called Open-O. The AT&T declined to comment directly, other than to say ECOMP is a comprehensive project on its own.
— Carol Wilson, Editor-at-Large, Light Reading