Will the Cisco/Ericsson partnership model work? That's the question we put to the Light Reading community following the announcement that the networking technology giants are engaging in a relationship that is "like a marriage," according to Cisco executive chairman John Chambers. (See Cisco + Ericsson: Friends With Benefits and 'This Industry Will Be Won & Lost In the Next Three Years' – John Chambers.)
The response, currently, is mixed. While 24% of our near 900 respondents think "the combination of these two powerhouses will crush rivals" and a further 15% believing that the partnership can work "but the competitive impact will hit the mid-tier suppliers more than major rivals," 32% believe that the "jury is out -- it's too hard to tell if this is the right approach or not."
There are, of course, those that believe the partnership announcement won't come to much: 29% of respondents believe "this has all the makings of a business and operational disaster."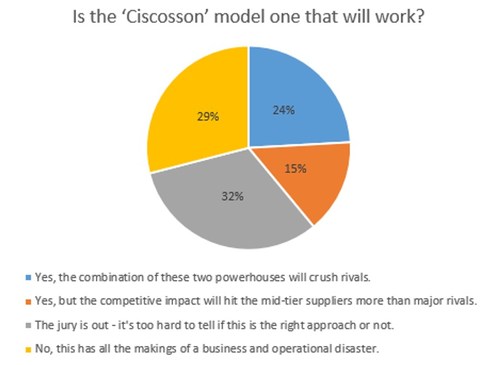 You can still vote in this poll and instantly see the latest results -- check out Will 'Ciscosson' Be a Success?
For Light Reading's extensive coverage of the Ciscosson tie-up, see Cisco + Ericsson: From Soup to Nuts.
— Ray Le Maistre,

, Editor-in-Chief, Light Reading