DENVER -- Intel Network Builders' Summit -- Intel is trying to accelerate the deployment of virtualization in telecom by reducing the confusing array of options in basic infrastructure down to a manageable number, that can then be used as the foundation for faster innovation.
Speaking Tuesday at this one-day event, held in conjunction with Light Reading's NFV & Carrier SDN conference, Chandresh Ruparel, director of ecosystem strategy and Intel Network Builders for Intel Corp. (Nasdaq: INTC), admitted there is discouragement within telecom over the pace at which network functions virtualization (NFV) is taking place. One of the major barriers to deployment is market fragmentation around the function known as NFV infrastructure (NFVi), he said.
"There are too many NFVi configurations in the industry," Ruparel said. "The amount of time, especially with newer technologies, to just put together this base foundation is months. That is the time the community is not spending on innovation, on value-add. This is time spent on cost for development and lost opportunity because time to development is longer."
Among its partners in the comms space, Intel has tracked "tens of configurations" for NFVi, he said, but among the large players in the cloud community, "there are configurations that can be counted on your fingers. This has a huge impact across the board."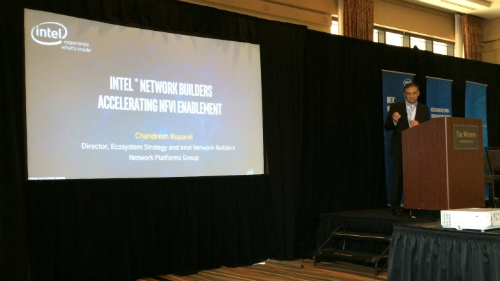 To help address the proliferation of solutions, Intel introduced Intel Select Solutions for NFVi earlier this summer, a set of options that are verified and tested, and designed to support specific communications workloads, Ruparel said. The idea is to let those deploying NFV spend less time, effort and money evaluating hardware and software integrations.
That's an important step, according to Heavy Reading Senior Analyst Roz Roseboro, because the complexity of telecom workloads is an issue that needs to be tackled.
"In an IT environment, there are different workloads but not as much diversity in what they require," she commented in an interview following Ruparel's presentation. "Telco workloads are so much more complex than the typical IT workload, and there is such a diversity of workloads that the industry is still trying to figure out, for each workload, how much memory, compute and storage is needed."
She compares the process to buying a laptop from a vendor such as Dell, which will present the consumer with options, making clear what range of software each can support.
Doing that for the full range of workloads in telecom produces the large number of configurations that exists today, she says. With Select Solutions for NFVi, Intel aims to provide the intelligence to know what kind of infrastructure is required based on a given workload's characteristics. The idea is to come up with a smaller range of options while making certain each option is tested and verified to support a specific set of workload characteristics.
Intel has been working with its Network Builders ecosystem, a group of 267 partners, to develop Select Solutions, and in the initial test cycle found "600 issues from an interoperability perspective" that had to be addressed, Ruparel said. By working with such a broad ecosystem, and devising an approach that benefits everyone -- including systems integrators, equipment makers and communications service providers themselves -- Intel hopes to accelerate the process.
Intel's Select Fast Track Kit for NFVi, due out in October, will provide pre-integrated hardware and software platforms, giving members of the Network Builders faster access to platform configurations and letting communications service providers move more quickly to testing and modeling of solutions for their next-gen architectures.
All of this is based on the Intel Xeon Scalable processor. (See Intel's Newest Xeon Targets AI, Blockchain & NFV.)
Intel is not venturing into the OpenStack space -- Ruparel made it clear that this work is for what runs underneath. It draws on input from the Network Builders members, and the solution set will evolve in an iterative process, based on ongoing feedback.
OPNFV, of which Intel is a member, is also tackling some of these issues, with the goal of doing the broad testing and verification that individual operators don't want to have to do across the NFVi, analyst Roseboro notes.
Operators want to move fast, but they also want to avoid vendor lock-in, and doing both things at once remains a challenge, she says. What Intel is doing addresses one key aspect of that challenge.
— Carol Wilson, Editor-at-Large, Light Reading