The substance of the show wasn't lacking. Discussions of access networks and FTTP (fiber-to-the-premises) networks ruled the day. Venture capitalist John Adler correctly marked the access network as the industry's most urgent bottleneck, and at least five of the more than 30 papers presented at Monday's Poster Session discussed FTTP networks or FTTP components.

Not that the NFOEC organizers wanted anybody to actually hear about the content. Nope, they're not big fans of the working press. For example, how about that press room?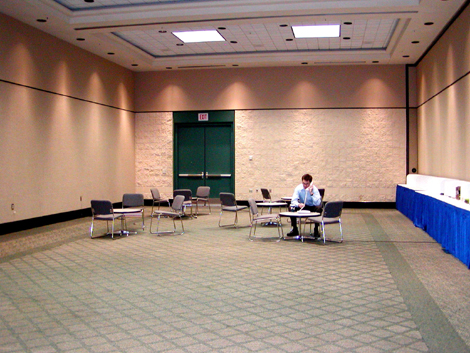 Yes, the press room was a lark. No printer. Three phones. Midget furniture. No Internet access. No food. And by far the worst... NO COFFEE!

Being the belly-achers we are, we tried to get some news from the show organizers.

"All we've ever done is provide a phone and some chairs," explains Nancy Groshans, NFOEC's conference project coordinator.

But at least the organizers were friendly. When we asked why the local 802.11 network, which conveniently had an access point in the press room, wasn't turned on, we got blank stares. We even stressed that we'd be willing to pay.

That didn't work. We politely inquired why the show's organizers were surfing the Net while we filed stories by carrier pigeon.

"Because we're on the staff and you're not," Groshans gaily quipped.

Nothing like a convention of fiber optic engineers that has no network. Good thing there was plenty of room for press conferences.