Net Neutrality, Here We Go Again
FCC Chairman Ajit Pai is ready to go to war over net neutrality.
At a small event in Washington DC, Chairman Pai unveiled his plan for repealing the Open Internet Order passed by his predecessor Chairman Tom Wheeler and Wheeler's fellow Democratic Commissioners back in 2015. The full text of Pai's proposal will be released on Thursday afternoon. The official Notice of Proposed Rulemaking (NPRM) will go before the Federal Communications Commission (FCC) for a vote in May.
Described in broad strokes, Chairman Pai's plan includes three main components. First, Pai wants to return to classifying the Internet as a Title I information service rather than a Title II telecommunications service. Second, he wants to eliminate the Internet conduct standard which gives the FCC the unspecified right to police Internet providers on how they do business. And third, Pai wants input on how to approach what are currently considered the bright-light rules of the Open Internet Order, namely prohibitions on blocking, throttling and offering paid prioritization for delivery of Internet traffic.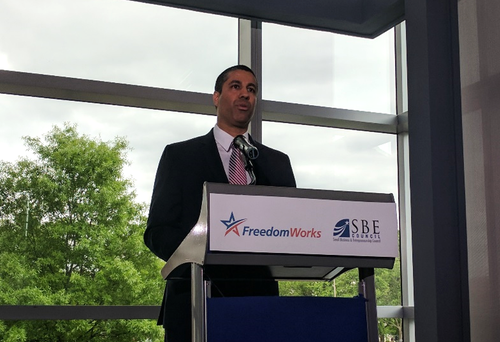 Speaking out aggressively against the process that led to the Open Internet Order being passed in the first place, Chairman Pai accused Democrats of playing politics with net neutrality back in 2014 and 2015. He noted that shortly after a "disappointing 2014 midterm election, and in order to energize a dispirited base, the White House released an extraordinary and unprecedented YouTube video instructing the FCC to implement Title II regulations." According to Pai, that video successfully pressured Democrats to change course and pursue reclassification at the FCC. And Pai argued that subsequent attempts to make a case for Title II occurred within a "fact-free zone."
What Pai didn't refer to explicitly in his remarks was the concern that Title II classification gives the federal government authority to regulate broadband prices. Although officials under the last FCC administration repeatedly said that the agency would exercise forbearance on price regulation -- i.e., they wouldn't put pricing controls in place. Opponents worry that the threat could still be acted upon. (See Net Neutrality Heads to Court and ACA Doesn't Buy FCC's Rate Reg Reassurances.)
Pai did allude to price regulation fears however in assessing the impact that the Open Internet Order has had since it was first introduced. According to Pai, "Among our nation's 12 largest Internet service providers, domestic broadband capital expenditures decreased by 5.6% or $3.6 billion between 2014 and 2016, the first two years of the Title II era."
The counter argument to Pai's position is that cause and effect have not been established with the capex trend. There is also significant infrastructure investment planned for the near future with operators planning massive fiber deployments and rolling out gigabit broadband services. (See Don't Put a Cap on Capex Just Yet.)
---
For more fixed broadband market coverage and insights, check out our dedicated Gigabit/Broadband content channel here on Light Reading.
---
So what happens next? Predictably, Democrats and other opponents of reversing the Open Internet Order have geared up for a fight. In fact, prior to Pai's speech, several Democratic Senators held a press conference to discuss action against the new FCC plans. During the press session, Senator Richard Blumenthal (D-Conn.) talked about the need to galvanize the public into a "seismic outcry" against attacks on net neutrality. Blumenthal also pointed out that in order for Chairman Pai to reverse the Open Internet Order he will have to prove that something significant has changed since the courts upheld the ruling last year.
To that point, Republican Commissioner Michael O'Rielly agrees that the law is an issue here. Speaking at the same event with Chairman Pai, O'Rielly argued that Congress needs to pass new legislation so that net neutrality and Internet service classification aren't open for review every time there's a new political party in power. Of course in today's political climate, any new law passed would almost certainly be to O'Rielly's and other Republicans' advantage.
In the short term, the very next step in the battle for the Internet is the FCC vote that will take place on May 18. After that, Chairman Pai's new proposal will be circulated for public comment.
Opponents promise that the public response will be huge. According to Senator Edward J. Markey (D-Mass.), where the repeal of the Open Internet Order is concerned Chairman Pai and President Donald Trump should expect a "tsunami of resistance."
— Mari Silbey, Senior Editor, Cable/Video, Light Reading
PARTNER PERSPECTIVES
- content from our sponsors