The year 1934 is repeating itself in the arguments over net neutrality today.
The FCC last month voted to regulate the Internet as a public utility, reclassifying broadband providers under Title II of the Communications Act of 1934. Arguments by Republican opponents sound similar today to those raised by their predecessors 80 years ago.
Back in 1934, when Congress passed the Communications Act and created the FCC, "Republican lawmakers objected just as loudly, and with similar concerns," writes Rebecca R. Ruiz at The New York Times.
Senators Lester J. Dickinson (R.-Iowa) and Thomas D. Schall (R.-Minn.) called President Franklin D. Roosevelt's administration "desperate" and overreaching, and said the act was an attempt to "censor the press" by regulating telegraph companies and broadening the Radio Act of 1927, Ruiz writes.
"Only a united front by the press of the nation can halt this new plan to gag them," Dickinson said. "The newspapers of the United States must prevent the fourth attempt to Hitlerize the press of the nation."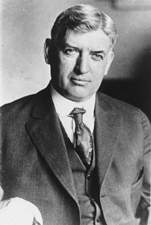 I'm not sure opponents of the Communications Act were wrong, looking at the state of American media for the next 40+ years, when the FCC reigned supreme before the emergence of cable.
---
Find out more about broadband on Light Reading's broadband channel.
---
Oh, sure, "Hitlerization" is over-the-top. We never saw the kind of censorship in the US that we saw in Nazi Germany or the USSR.
But when the FCC had its strongest control over media, American TV networks produced a steady stream of pap, and their newsdesks provided similar news that seldom challenged the establishment.
My fear about net neutrality regulation is that it will lead to precisely the kind of big-company domination, stifling competition and innovation, that it was designed to avoid.
— Mitch Wagner,

, West Coast Bureau Chief, Light Reading. Got a tip about SDN or NFV? Send it to [email protected]