Momentum is building in the backlash against the FCC's vote late in 2017 to repeal net neutrality rules, but the game is far from over.
Here are five variables currently in play.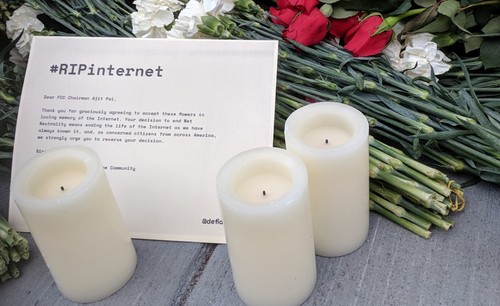 50 senators ready to repeal
All 49 Democrats plus Republican Senator Susan Collins of Maine support a rollback of the Federal Communications Commission (FCC) 's December decision to overturn net neutrality rules. With one more supporter, the coalition could successfully vote for a rollback using a Congressional Review Act (CRA) resolution. CRA resolutions must be voted on with 60 legislative days of a government agency passing a new regulation.
83 congressional representatives support CRA
Representative Mike Doyle (PA-14) has announced that 82 representatives in Congress are ready to co-sponsor his CRA resolution to overturn the FCC's latest net neutrality decision. Since the House of Representatives includes 435 acting members of Congress, that's nowhere near the majority needed for a successful vote. However, Doyle and others hope their numbers create pressure on more lawmakers to support the cause.
Trump has veto power
If the House and Senate are successful in passing a joint resolution, President Donald Trump still has the power to veto their decision. A presidential veto could only be defeated then by a two-thirds majority in both chambers. While that majority is unlikely, supporters of a resolution believe the vote is still important because it would put lawmakers on the record against net neutrality provisions that are popular with constituents.
New legislation waiting in the wings
Shortly after the FCC passed its Restoring Internet Freedom Order last month, Republican Representative Marsha Blackburn (R-Tenn.) introduced legislation to override the order, proposing that some net neutrality provisions be preserved, but enforcing the idea that the FCC could not regulate Internet service providers as Title II common carriers. The legislation is positioned as a compromise, but also seen by many net neutrality supporters as capitulation to industry demands. (See Net Neutrality Heads to Court & Congress.)
22 states sue the FCC
Adding fuel to the net neutrality fire, New York Attorney General Eric T. Schneiderman announced this week that he is leading a multistate lawsuit with 22 Attorneys General to block the FCC's ruling to repeal net neutrality. Many in the net neutrality fight have always believed the issue would end up in the hands of the Supreme Court.
— Mari Silbey, Senior Editor, Cable/Video, Light Reading