NCTA Vids Spotlight DTV Transition
To help consumers better understand the digital TV transition, the
National Cable & Telecommunications Association (NCTA)
has introduced four 30-second
spots
-- three in English, and one in Spanish. A key message throughout: Don't fret if your TV is hooked to cable. It will work just fine after the February 17, 2009, cutoff.
Or, in the
entertaining words
of Eunice Mixon, a cable sub in Tifton, Ga.: "Every TV set you have that's hooked up to cable will still work jut fine. If yours aren't, just get on that Internet and these fine folks will help you learn more." She then directs viewers to visit
www.dtvtransition.org
or to call 888-DTV-2009 to learn more so they aren't staring at snow 18 months from now and wondering why.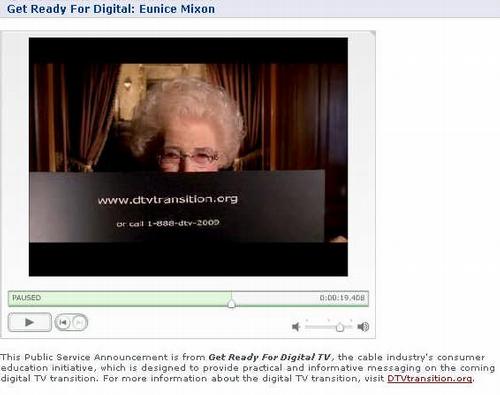 Cable, our elderly host points out, has "taken care of all that
transition stuff
for us."
Of the spots, this one is my favorite. I've watched it at least 15 times. I'm almost embarrassed to say that it's kind of addicting. Only this woman can get away with calling cable digital's picture "brilliantly crispy" while holding a purple feather duster. And her intonation of "CA-ble" at the start is worth the price of admission alone.
As part of a TV campaign valued at $200 million that will run until February 2009, NCTA says it will spread the message on cable and broadcast channels starting this week.
The organization hopes to do its part to clear up consumer confusion about the transition.
"As many have pointed out, the simplest and most direct route to communicating with television viewers is through television itself," said NCTA President and CEO Kyle McSlarrow, in a statement.
In addition to highlighting the transition on its Website, NCTA has also pledged to send reminders in the form of bill stuffers, distribute brochures at events, and send out customer communication "tool kits" to all U.S. cable systems by year-end. Those kits will include sample emails to be sent to Internet customers, Website banners for MSO and programmer Websites, and messaging for billing statements, digital set-tops, and local origination channels.
And every bit of extra education can only help over the next 18 months, particularly in the eyes of
Sanford C. Bernstein & Co. Inc.
analyst Craig Moffett. Recall that he pointed out recently that Congress has set aside just $5 million to spread the word -- equal to about $0.02 per American. (See
Pinching Pennies Over DTV Ed
.)
— Jeff Baumgartner, Site Editor,
Cable Digital News