Publicly owned North American carriers cut spending by 21 percent in 2003, but a slight uptick in revenue created healthier balance sheets for most, says a report from Infonetics Research Inc.

Carrier capex spending will total about $48.9 billion in 2003, down about 21 percent from 2002, according to the report. At the same time, revenue growth of 1 percent has brought about an average capex-to-revenue ratio of about 14 percent. And that puts most service providers in a better financial position, the firm maintains.

Economists have kept an eye on the what carriers spend compared with what they're taking in, because during the telecom downturn the gap widened alarmingly. Basically, this meant that carriers were betting the farm on services they hadn't yet launched or sold. We've been living with the results these last three years.

Carriers have worked hard to whittle the ratio down below 20 percent, a traditional industry norm (see Carrier Capex Cuts to Slow a Bit). Infonetics says they've succeeded, bringing the average below the general goal of 15 percent. By Infonetics' reckoning, that halves the level it reached circa 2000.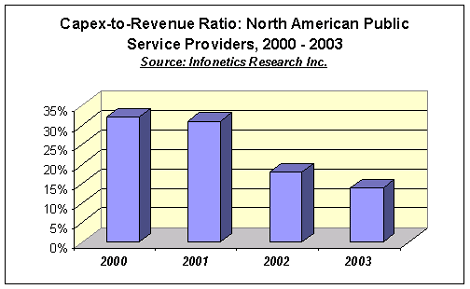 Most of 2003's capex came from the regional Bells, though cable MSOs and IXCs also contributed large chunks.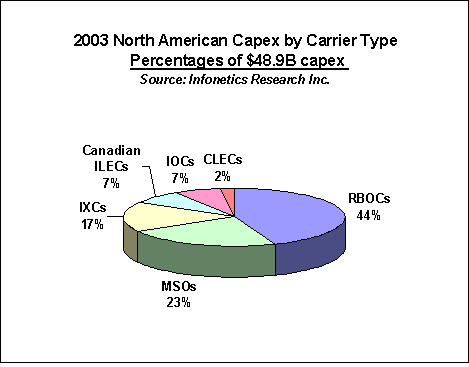 Kevin Mitchell, directing analyst at Infonetics and the report's lead author, predicts that next year's revenues will creep up a bit, but capex is set to be "flat to slightly down," as carriers look to pay down their debt and get cash flowing in a more robust fashion before taking any risks on big buildouts again.

— Mary Jander, Senior Editor, Light Reading