As Ericsson AB (Nasdaq: ERIC) has so much it wants to show and tell the world, what might it choose to talk about in just a few minutes at the recent Mobile World Congress event in Barcelona?

With the booths of some of its keenest rivals already visited and snapped, Light Reading set the Swedish giant's staff the same task as the others: Tell us about, and show us, the three most important things you're promoting at the event in just 10 minutes. (See

MWC 2010 Photos:

ZTE Booth Tour,

MWC 2010 Photos:

NEC Booth Tour,

MWC 2010 Photos:

Nokia Siemens Booth Tour, and

MWC 2010 Photos:

AlcaLu Booth Tour.)

Ericsson's team had the benefit of previous experience, having undertaken the slightly easier challenge posed in 2008 of covering as many key topics as possible in 20 minutes. (See

MWC 2009:

Ericsson Booth Tour.)

Its disadvantage, though, is that it had an entire building (Hall 6), and not just a booth, and that meant trying to cover more ground to get to the three key things they wanted to tell us.

Check out the pictures, with accompanying text, by clicking on the picture below to launch the slideshow -- and find out, in the final picture caption, how we graded Ericsson's overall effort.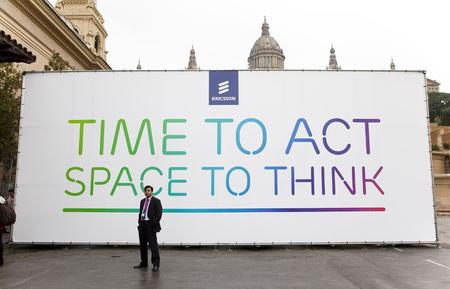 Programming notes
Ericsson had taken the new format on board and was ready to squeeze as much information into the allotted time as it could.

To achieve that it picked three quite broad topics to focus on: the challenge of connecting tens of billions of objects as well as devices and people; LTE developments; and network transformation issues.

That gave Ericsson's host, Peter Linder, director of Network Solutions, the chance to show off the vendor's strength in depth, and the opportunity to introduce some levity -- that LTE stands for "Leaders Trust Ericsson."

But ultimately Ericsson may have spread itself a bit too thin on this whirlwind tour. While it engendered a sense of capability (it's hard to think of an area of mobile development in which Ericsson can't compete), knowledge, understanding, and confidence, the short tour lacked a hard-hitting punch.

All photos by Siqui Sánchez. The captions, though, are the work of the devil.

— Ray Le Maistre, International Managing Editor, Light Reading