NEW ORLEANS -– The Cable Show -- Time Warner Cable Inc. (NYSE: TWC) and Comcast Corp. (Nasdaq: CMCSA, CMCSK) executives are talking the talk about tru2way, but are also trying to demonstrate they're walking the walk when it comes to adopting and deploying an 'open' video platform that promises to drive innovation for interactive applications, set-tops, and digital televisions. (See Cable Makes Big 'tru2way' Play .)

That Time Warner Cable is deploying tru2way-based boxes and networks isn't exactly a secret. It's been requiring the OpenCable Application Platform (the middleware element) for tru2way in boxes for the past two years in preparation for the July 2007 separable security mandate. (See Countdown to 'Seven-Oh-Seven' and Boxing Up 'Seven-Oh-Seven' .)

Starting with an initial launch in the second quarter of 2007, Time Warner Cable supports tru2way in about 40 percent of its footprint, and 16 different operating divisions, according to Bill Helms, the MSO's vice president of subscriber equipment, who spoke on the subject Sunday at the pre-show tru2way Developers Conference. The MSO's present tru2way footprint covers about 6 million subs.

He says Time Warner Cable, which has deployed more than 1 million tru2way boxes so far, is about to move ahead with a second-generation of set-tops based on the new platform. Although the MSO is populating systems with tru2way boxes as older set-tops naturally cycle out, demand for boxes with high-definition television (HDTV) capabilities is the primary driver for the new, more powerful devices, Helms notes.

And what of Comcast, particularly after MSO chairman and CEO Brian Roberts declared tru2way a major initiative for the operator and the rest of the cable industry at the Consumer Electronics Show in January? (See CES: Roberts Declares Open Season.)

Well, plenty of activity is afoot, according to co-panelist Sree Kotay, Comcast's SVP and chief software architect.

He says Comcast will have 95 percent of its network tru2way-enabled by the end of this year. Next year, Kotay expects 50 percent to 60 percent of the boxes Comcast deploys to be running tru2way middleware and a new Java-powered interactive guide.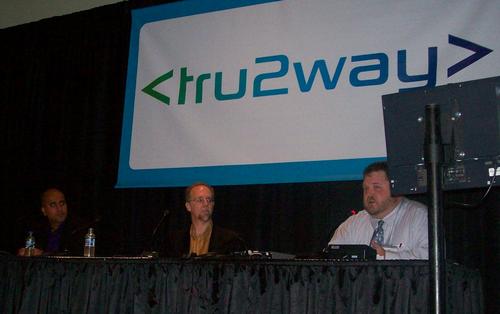 "We think [tru2way] really is a game-changer for us in terms of being able to innovate with software and features," Kotay says.

Kotay notes that HITS AxIS, a just-announced centralized interactive television (ITV) services platform for small- and mid-sized operators, will give Comcast the ability to conduct iTV application beta tests. (See CMC Plays Host to iTV.)

Like Cox Communications Inc. , the other MSO linked to the TVWorks LLC joint venture, Comcast is also rolling out OnRamp, a lighter subset of tru2way for already-deployed boxes. (See NDS Navigates Its Way Into Cox.)

Comcast is kicking off OnRamp in concert with its deployment of Motorola Inc. (NYSE: MOT) boxes outfitted with TiVo Inc. (Nasdaq: TIVO) digital video recording (DVR) software. (See Spotting TiVo .)

Comcast and Time Warner Cable both have plans in place to deploy EBIF (Enhanced TV Binary Interchange), which will support some simple "bound" applications (such as interactive polling and voting apps associated with the program being viewed) that can run on any digital set-top on the system. Comcast expects to deploy the EBIF agent to about 60 percent of its footprint, with 98 percent of its plant EBIF-capable, by year-end.

— Jeff Baumgartner, Site Editor, Cable Digital News