The multiservice edge system (MSE) was not so long ago hailed as the single most important facilitator of true next-generation networking. Is it still so? Well, in short, the MSE is in a bit of a muddle these days.

With the arrival of the MSE -- a do-it-all box that could handle many forms of traffic and protocols -- the theory held, the ungainly layer cake of diverse networks (each service with its own access, edge and core infrastructure) would become of thing of the past. The new network would consist of one, robust IP/MPLS core switches, protocol agile MSEs, and multiservice access platforms leveraging everything from DSL to WDM.

All good plans, however, are susceptible to poor execution. The first problem: No one has been able to build one that actually works as advertised. Second, carriers have done an about-face, asking their suppliers to put opex-reducing MSEs on the back burner and instead focus on gear that enables new services.

Converging networks looks great in corporate presentations, but the real money goes to technology that helps launch IP VPNs, Ethernet services, or IPTV. The question plaguing many vendors these days is whether the MSE is ever going to truly come back.

If you recall, AT&T Corp. (NYSE: T) was one of most vocal advocates of the MSE (see AT&T's New Gods). As part of its Concept of One architecture, the MSE sat at the edge of the packet and optical core networks and performed all manner of service aggregation, grooming, termination, and interworking. In this case, the MSE is a souped-up MPLS LER (label edge router) with a wide range of interfaces and service modules supporting network-based VPNs, Frame Relay (FR), Ethernet, and ATM switching (with interworking), B-RAS, packet telephony media gateway, and good old-fashioned IP routing with policies and QOS.

You hardly need to make it to the end of that list to see why the supplier community faltered. It's like the do-it-all home entertainment device that includes a CD player, television, and DVD system. Most vendors could get part of the job done, but executing well on all functions is nearly impossible.

At the same time, according to my conversation with the head of IP infrastructure at AT&T, the mandate from the head office was to expand revenue and keep competitive. That meant building a solid VOIP network, rolling out VPNs, and offering Ethernet services. If the network had to remain a layer cake for a few more years, so be it.

Savvy Solution

Other operators have looked hard at the MSE, and although they acknowledge its long-term value, have taken a more pragmatic approach to edge networking today. Savvis Communications Corp. (Nasdaq: SVVS), for one, began looking for ways to better consolidate its two networks -- an ATM network for business VPN services and an IP network acquired from Cable & Wireless plc (NYSE: CWP) for business Internet services. Currently it has considerable difficulty in providing uniform services from every Savvis point of presence (POP).

Here's why: The original Savvis POPs had a variety of Layer 2 (L2) and Layer 3 (L3) VPN services, while the C&W POPs are focused more on Internet access, routing, and some IP-based VPN. In addition, Savvis faces opex issues associated with operating two distinct networks. This makes it an ideal candidate for consolidating that edge equipment in order to save on real estate, power, maintenance, sparing, and provisioning costs. Savvis is also looking to improve automation of service provisioning.

Thus, Savvis is well on its way to replacing the edge of its network, with a goal of convergence and unification across all network POPs.

Initially, Savvis looked for a single MSE that would handle all L2 switching, Internet access, and IP VPN services. After evaluating many vendors, it has since given up and is now looking at the network edge as home to two unique but complementary systems:


Layer 2 MSE: This will be the first such gear to be deployed in Savvis's network, likely by the end of 2005. It will focus on L2 and aggregation, with values of high density, multiservice termination, and encapsulation of customer protocols, such as IMA (inverse multiplexed ATM), MLFR (multilink Frame Relay), and HDLC/PPP. This box will also support MPLS and pseudowires, but our contact made it clear that this system was not necessarily about convergence over a common core.

Because much of its traffic is FR with strict SLAs and constant-bit-rate traffic, this MSE will actually serve the dual role as a core box, with OC12 interconnections. Savvis will continue to operate parallel cores for the near term, as the reliability of a L2 MSE trumps the cost advantage of full convergence on an IP/MPLS core. The L2 MSE will be implemented in most of Savvis' aggregation POPs, though some POPs will have a simple MSPP for backhaul to larger aggregation POPs.


L3 MSE: This device will be implemented later, probably in 2006, and will provide a follow-on to the Nortel Networks Ltd. (NYSE/Toronto: NT) Shasta platform. This new device will support the range of IP VPNs and stateful services (managed firewall, intrusion detection) plus Internet access and routing with the variety of policies Savvis implements. This system will interface with the C&W IP core, which has OC192 trunks. Savvis is considering the Nortel MPE, but no decision has been made yet. Our contact suggested the MPE's long development time and roadmap were obstacles at present.


This Savvis stuff got me thinking: If the MSE can be physically divided into L2 or L3 focused systems, then perhaps there are other ways to break up the MSE to suit operator requirements at different points in their network or to satisfy other opex or service enhancing objectives. An MSE taxonomy was in order. After talking with more than a dozen service providers and 15 vendors for Heavy Reading's recent report The Future of Multiservice Switching in Converged IP/MPLS Networks, I settled on the following representation: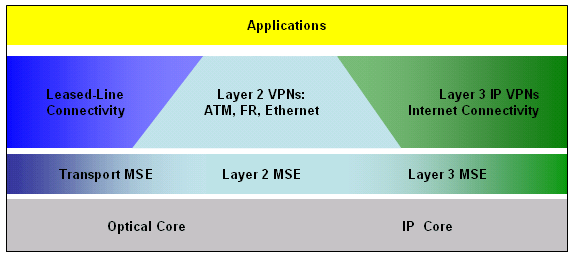 This illustrates my thinking around the "exploded MSE," a multiservice edge network that consists of a variety of MSE devices that are optimized around transport, L2, or L3 services. In the following table, details of each are provided.

Table 1: The Heavy Reading MSE Taxonomy

MSE
HERITAGE
SERVICES FOCUS
KEY FEATURES
VENDORS
NOTES
Layer 2 MSE
MSS
L2 VPNs, L2 circuits, VPLS, point-to-multipoint soft permanent virtual circuits (SPVC)
Pseudowire; L3 classification; ingress/egress traffic management; local and network CAC
Traditional MSS suppliers, Ciena, Hammerhead Systems, Mangrove Systems, Riverstone, Tellabs
The next-gen multiservice switch, focusing on Ethernet and L2 VPNs. Already can be segmented into ATM-centric and Ethernet-centric models, with MPLS in common.
Layer 3 MSE
Edge router, IP services switch
RFC2547 IP VPNs, RFC2764 IP VPNs, IP multicast, B-RAS, security
Most L2 MSE features, plus high-availability routing, security, policies.
Traditional IP router vendors, Nortel, Laurel/ECI, Tellabs
More complexity, barriers to entry than L2 MSE. Fewer credible entrants. Strong outlook as operators transition to more high-value IP services
Transport MSE
Sonet/ SDH MSPP
Leased lines, L2 services with L3 awareness
Same as L2 MSE plus transport features: multiplexing, grooming, protection at the physical layer
Many traditional MSPP vendors, Atrica, Corrigent Systems, Luminous Networks, Mangrove Systems
Beyond simple Ethernet switches on a line card, the T-MSE integrates MPLS and pseudowire capabilities to serve as an extended L2 MSE in the metro network




In the simplest terms, the L2 MSE is a traditional multiservice switch evolved to accommodate Ethernet, MPLS, and IP awareness. The L3 MSE finds its heritage in traditional edge routers and IP services systems, such as Nortel's Shasta line. And finally, the Transport MSE is the natural evolution of the Sonet/SDH multiservice provisioning platform (MSPP).

One thing to keep in mind is that these product definitions outline functional descriptions of a system, not necessarily entirely different product architectures or designs. Cisco Systems Inc. (Nasdaq: CSCO), for example, could justifiably argue that its GSR 12000 can be "outfitted" as a L2 MSE or a L3 MSE, based on line-card and software choices. Similarly, the Tellabs Inc. (Nasdaq: TLAB; Frankfurt: BTLA) 8800 multiservice router registered its first successes as a L2 MSE, supporting the rollout of nationwide Ethernet services and L2 VPNs for major operators such as NTT Communications Corp. Yet Tellabs fully intends for this product line to evolve into a L3 MSE as well, with all the routing and IP-services support necessary to qualify as such a product. The same is largely true of Alcatel (NYSE: ALA; Paris: CGEP:PA), which intends its 7670 RSP to act as either an L2 MSE or an L3 MSE, depending on its configuration.

Where things are clearer, however, are with vendors such as Ciena Corp. (Nasdaq: CIEN) and Hammerhead Systems Inc., both of which are offering L2 MSEs that stick to their knitting, supporting L2 VPNs with service interworking and MPLS, while eschewing a complete routing engine capable of L3 VPNs and Internet routing. These companies represent the ATM-centric L2 MSE camp, starting from a base that begins with an ATM switch and full ATM private network-network interface (PNNI) implementation, then layers on an MPLS control plane, pseudowire support, service interworking, and other features that enable an operator to migrate its legacy networks to IP/MPLS.

Alternatively, a L2 MSE could begin as a carrier Ethernet system, such as Riverstone Networks Inc.'s (OTC: RSTN.PK) 15008 Ethernet Edge Router, which added L2 VPN features, packet-over-Sonet (POS) and ATM interfaces, and even L3 MPLS VPN features and IPv6.

Completing the MSE taxonomy is the Transport MSE. This is the next logical step for the MSPP, which added a limited amount of Ethernet aggregation and switching to a Sonet/SDH platform. By adding the capabilities to handle IP and MPLS, the Transport MSE remains a transport network element (offering multiplexing, grooming, and protection at the physical layer), yet may terminate data services directly and aggregate them into MPLS-based pseudowires for backhaul to a L2 or L3 MSE.

In this light, the Transport MSE extends the L2 MSE through the metro transport network, which can help speed service creation and management. In addition, these pseudowires are typically carried as Ethernet, so the Transport MSE also facilitates the migration of the network towards a greater use of Ethernet interfaces and away from densely channelized TDM interfaces. This product concept was described in detail by AT&T Research Labs as part of its Packet Aware Transport Network (PATN) architecture, but has yet to be implemented by AT&T proper. Corrigent Systems Inc.'s deployment in KDDI Corp. is probably the best example, though certain deployments of the Cisco 15454 with ML-Series cards come close to this definition.

Will the full MSE ever be realized? Somebody's got to prove they can deliver. Nortel is giving it a go with its MPE 9000 series, though it admits it has taken longer to achieve all the high-availability features required. Its first customer for the MPE is Equant N.V.. This sounds encouraging, but Equant, for now, says it is only putting MPEs in Tier 4 locations where a multiservice platform is more economical than its typical Cisco routing kit or where Ethernet is a priority.

Such a scenario isn't really delivering on the vision of converging disparate core networks. What's more likely is the slow evolution of traditional platforms towards an MSE. It's also likely we'll hear less about an "MSE" from the marketing point of view, since carriers now equate MSE with loads of cash and buggy software.

The end result is that Ethernet switches will start to look more like edge routers (think Alcatel's 7450), edge routers will add more features such as pseudowires and L2 interworking, and MSPPs and ROADM systems will eventually show up with MPLS and some real packet aggregation. The multiservice edge will come about, but I doubt you'll see it in a single box.

— Scott Clavenna, Chief Analyst, Heavy Reading