Motorola Inc. (NYSE: MOT) kicked off the pre-Consumer Electronics Show (CES) hype Thursday by unveiling a new line of all-digital, MPEG-4-capable cable set-tops and an integrated gateway designed to pipe in both voice and data applications. (See Moto Unveils New STBs.)

On the set-top front, Motorola unveiled the DCX series, featuring three models that can be interlinked through baked in Multimedia over Coax Alliance (MoCA) technology.

The top-of-the-line DCX3400 is a dual-tuner, hi-def digital video recorder "host" box that can serve as a "multimedia" hub for other set-tops hanging off the home's coax network.




Other members of the new set-top family include the DCX3200, a single-tuner, high-definition set-top, and the DCX100, a single-tuner, standard-definition-only device. Although the DCX100 can access HD content stored on the DCX3400 using MoCA, it downconverts the signal to SD for display.

The new line, to become commercially available later this year, will also tune to 1 GHz and bond multiple downstream Docsis channels. While the Docsis component could pave the pay for niche, IP-based video services, the higher tuning capability will come in handy should more operators opt to upgrade to 1 GHz and use those new channels for HD and/or Docsis 3.0. (See Cox Makes 1 GHz Moves .)

Motorola noted that the boxes will also support the OpenCable Platform, the Multi-stream CableCARD, and two-way applications such as switched digital video (SDV) and video-on-demand (VOD). The set-tops will handle HD signals up to 1080i, but will have "pass-through support" for 1080p, according to Rob Folk of Motorola's Home & Networks Mobility unit, who discussed the products Thursday during the company's pre-CES Web presentation.

Motorola has not disclosed pricing on any models in the DCX product line or any specific trials or deployments with cable operators.

Although MoCA presently is Motorola's exclusive choice for video home networking technology for the launch of the DCX line, the company is leaving its options open.

Motorola has also invested in 802.11n and done some work with HomePlug Powerline Alliance , as well, but, so far, MoCA is the most appropriate for shuttling hi-def content around the home, Folk explained.

He said software for the new set-top line is relatively agnostic regarding the types of physical connections allowed. Down the line, Motorola might consider a "complementary device" that could bridge MoCA to 802.11n, for example, and bring the PC into the networking equation.

Comcast Corp. (Nasdaq: CMCSA, CMCSK), one of Motorola's largest cable customers, expects to begin "seeding" its footprint this year for multi-room DVR applications, but has yet to formally select a home networking scheme, though MoCA is considered the leading candidate. (See Comcast Plots Multi-Room DVR.)

Rapid move to MPEG-4?

The new boxes will support both legacy MPEG-2 and the more efficient MPEG-4 codec, but there are questions about how quickly MSOs will adopt the newer platform, which is billed to provide as much as a 50 percent bandwidth efficiency gain over MPEG-2.

Comcast, for example, is building out a new, improved compression scheme based on MPEG-2 rather than MPEG-4. However, plans for its "open" Residential Network Gateway (RNG) project calls for some models to support MPEG-4. (See Comcast Ready to Reclaim Bandwidth and Intel Goes Inside Cable... Again.)

In a recent entry in Motorola's Media Experiences 2 Go blog, Corporate Vice President Geoff Roman predicted that "MPEG-2 standalone devices will have completely disappeared" by the latter part of 2009.

Meanwhile, the Digital Video Subcommittee of the Society of Cable Telecommunications Engineers (SCTE) , cable's standards body, recently approved a new standard that incorporates H.264/MPEG-4. (See MPEG-4 Here We Come! )

While that adds momentum for the advanced codec, a video engineer with a top five MSO told Cable Digital News not to expect MSOs to implement MPEG-4 very rapidly.

"It will be a slow adoption," the engineer says. "Our revenue streams are tied to the population of set-tops out there. MPEG-2-based services will be there for a long time."

Moreover, bandwidth constraints will probably prevent operators from simulcasting in MPEG-4. However, some operators may explore MPEG-4-based services that are tied to a specific box and an expanded tier of HDTV services, for example.

Gateway to convergence heaven?

Motorola also introduced the SURFboard SBV5422 Digital Voice Modem, a voice/data convergence device with integrated support for the Digital Enhanced Cordless Telephony (DECT) platform. Traditionally embedded multimedia terminal adapters (eMTAs), which contain Docsis cable modems and support VOIP apps, require a separate cordless voice base station.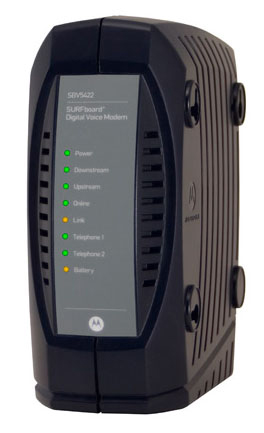 Because the handset can communicate directly with the modem, the new product entry "eliminates the complexity of having a third box," Motorola's Ken Haase said Thursday.

The device, also becoming available later this year, will, thanks in part to a network deal with Casabi Inc. , also handles a spate of IP-based applications. In addition to basic configuration and provisioning, users will also be able to link into the MSO's private email system and read and respond to messages without going to the PC. The SBV5422 will also support SMS as well as personalized, Web-based weather and news information, Haase said.

Motorola also did not disclose deployment activity for the new device, which is designed to comply with the CableLabs Docsis 2.0 and PacketCable specs, but the company is among the top suppliers in the eMTA product category. The SBV5422 is largely based on the already-certified SBV5222, the company said.

According to data from Heavy Reading, Motorola had 27 percent of the eMTA market for the first half of 2007, behind only Arris Group Inc. (Nasdaq: ARRS). (See Modem Shipments Eclipse Old Record.)

— Jeff Baumgartner, Site Editor, Cable Digital News