MoCA Eyes Europe
5:35 PM --
Multimedia over Coax Alliance (MoCA)
has carved out a nice piece of business so far in the US, with conservative estimates that there are 30 million-plus MoCA nodes in the field. A lot of that number comes courtesy of
Verizon Communications Inc.
(NYSE: VZ), but more contribution should be coming from MSOs such as
Time Warner Cable Inc.
(NYSE: TWC),
Cox Communications Inc.
, and maybe
Comcast Corp.
(Nasdaq: CMCSA, CMCSK) once they get their whole-home DVR acts together.
But now the MoCA crew believes there's a "significant addressable market" in Europe, too, despite a common notion that coax-based home networking should be a non-starter there due to a relative dearth of outlets per home, and that power, phoneline, or perhaps the budding G.hn standard might offer better fits for the region. (See
G.hn Gets Some Love
and
G.hn Rallies More Support
.)
A new survey from
IMS Research
suggests that MoCA's got a realistic chance in Europe, too, based on what was found in the United Kingdom, France, the Netherlands, and Poland.
Although IMS discovered that France and the Netherlands averaged less than two coax outlets per home, the average rose to two or more in the UK and Poland. The study also showed that homes in all four countries had two or more outlets at least 45 percent of the time. Here's how they stacked up: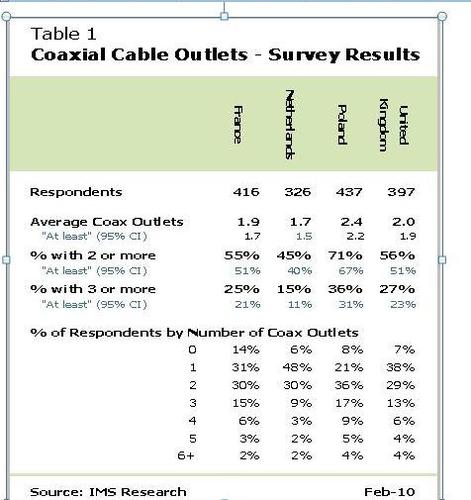 All of MoCA's MSO and carrier members are based in the US, but the latest coax numbers for these European countries may help the organization boost its profile with operators across the pond.
— Jeff Baumgartner, Site Editor,
Light Reading Cable