The founder of a leading enterprise messaging and chatbot company says telecom service providers still have an opportunity to grab some of the value in the messaging field, but only if they move more quickly and work harder to be open to developers.
Beerud Sheth, co-founder and CEO of Gupshup and a serial entrepreneur, is convinced that messaging is this decade's paradigm shift, following the personal computer, the web, and the smartphone as the primary platform, with bots being a significant tool to enable that.
To back up his argument, Sheth points to messaging as the primary use today for smartphone communications -- far exceeding voice calls -- and the rise of WhatsApp, Facebook Messenger and more.
His company's bot and messaging platform today is used by 30,000 businesses and handles 4 billion messages per month. In addition to its bot builder platform, launched a year ago, Gupshup this year unveiled its Interbot tool, which lets bots speak to each other. The company was one of the first to partner with Google on its Actions on Google platform, and its bot builder can make bots for more than 20 different platforms, including Alexa, Facebook Messenger, Skype and WeChat.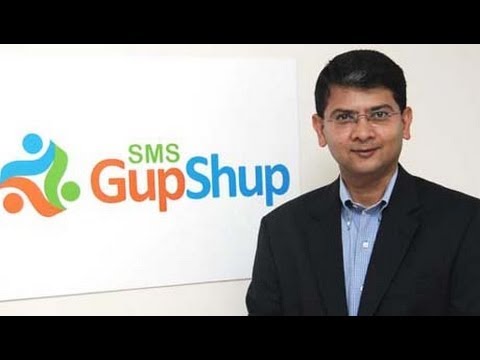 But Gupshup started as an India-based SMS specialist and, as a result, Sheth has experience partnering with mobile operators -- mostly in Asia -- in the messaging world. His message to them is pretty straightforward: get moving on Rich Communications Services (RCS) or watch others take control of the market, much like Apple and others once did with smartphones and apps.
Telecom did a great job of democratizing communications, Sheth says, but when it comes to the layers above that, he thinks "it has been a series of missteps and missed opportunities."
"In the early days, they controlled the whole ecosystem, right?" he comments in an interview. "Of course, they provided connectivity, but they controlled the device, and what was called value-added services, like ringtones and wallpapers. They ran it in an overly controlled way, trying to keep it as a walled garden, a closed space, exercising way too much control. And they missed the opportunity, because look what happened."
By now it's a familiar story -- Apple swooped in with the iPhone and its app store, and the wireless operators and even device makers such as Nokia were marginalized. A platform that enabled developers anywhere to create mobile apps brought the innovation of thousands of companies to the marketplace, and Apple captured the value-added services market.
"Companies in Silicon Valley get the value of the power of an ecosystem," he comments. "And look at what is happening with value-added services. That was tightly controlled and, meanwhile, all these apps based on top of the smartphone, these OTT apps as they call it, took over all the use cases and completely decimated the value-added services industry. Nobody goes to any of those VAS anymore -- you use the browser you have, and do Facebook Messenger or WhatsApp."
Having lost control of devices and value-added services, mobile operators could follow the lead of some of their peers by owning content, but they can also get deeper into services, Sheth says.
"As it comes to messaging and bots, if they want to be actively engaged, the one last remaining play for them is this thing called RCS -- they do control SMS, and RCS is the next version of it," he comments. But that control has to be properly executed.
---
You're invited to attend Light Reading's LTE Advanced Pro and Gigabit LTE: The Path to 5G event – a free breakfast colocated at Mobile World Congress Americas with a keynote address by Sprint's COO Günther Ottendorfer.
---
"There are many industries, like financial services or healthcare, where in most countries, the consumer data cannot leave jurisdiction of the country, it cannot travel over Facebook Messenger," Sheth notes. "So there is still a need for telco infrastructure, for RCS and so on."
But there are still two issues that he perceives. First, the telecom operators have to exercise "just enough control" of a fundamentally open ecosystem, Sheth says. And secondly, they need to move much faster.
"It has been really slow -- we have been talking about it for seven or eight years now and it's barely off the ground," he comments.
Mobile operators still own a ton of data, providing insights into customer needs and future service possibilities, "but they have to follow the value playbook and open up APIs so developers can self-serve."
Gupshup stands ready to collaborate and cooperate in the RCS space, Sheth says. To date, Google has been a driving force behind this message technology, partnering with carriers globally as well as with device manufacturers to incorporate RCS into Android phones, following its acquisition of Jibe Mobile. (See GSMA Adds Google, Operators to RCS Support Group, Will Google Save Mobile Operator RCS? and Google Acquires Jibe to Bring RCS to Android.)
The things that have slowed RCS to date -- business model challenges, interoperability, and the cost and complexity of deployment -- aren't going away, however. And it remains to be seen if telecom operators see messaging as the significant market Sheth is describing.
He firmly believes, especially with the rise of messaging apps and in-home assistants such as Google Home and Amazon.com's Alexa, that messaging in the broad sense is the way things will get done.
"With the wave of conversational interfaces coming in, the industry is saying, if this is what people like to do, then why not squeeze the whole Internet inside the messaging?" he comments. "So instead of going to the website, or downloading an app, what if you could just have a software program that could chat with you, right within the messaging app? You could talk to the Google store, the bank, the news site and it would be as simple as having a conversation with a friend. Anytime you are doing messaging, the metaphor is about conversation. Every business becomes a conversation -- every interaction becomes conversational."
And this is where bots come in -- as the volume of messaging scales up, bots are needed, particularly in the commercial context, to handle millions of messages.
The question is -- what role will telecom play in this new paradigm of messaging?
— Carol Wilson, Editor-at-Large, Light Reading