Telefónica Tests Ambitious New Wireless Tech
As part of its exploration of fixed wireless access (FWA) technology, Telefónica has now successfully trialed a solution from Cohere Technologies delivering aggregated throughput of 300 megabits per second in a 10MHz band. According to Cohere, the test achieved "a measured spectral efficiency of 57 b/s/Hz across 14 layers in a 90 degree sector," or nearly six times the spectral efficiency of other wireless technologies.
Greater spectral efficiency means more bandwidth capacity delivered with smaller amounts of wireless spectrum. That addresses a primary aim for operators looking to cost-effectively maximize performance in wireless broadband deployments.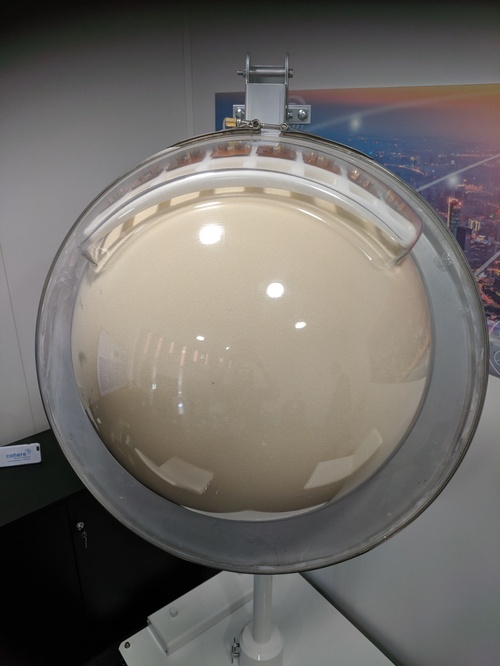 Cohere Technologies first introduced its fixed wireless solution last month at Mobile World Congress. Called 5G turboConnect, it uses a Massive MU-MIMO (multi-user, multi-input, multi-output) antenna design (that looks like a giant beige light bulb) and a software-defined radio base band unit. Most importantly, 5G turboConnect is based on a new modulation scheme called Orthogonal Time Frequency and Space (OTFS) that Cohere says improves significantly on the spectral efficiency of traditional OFDM modulation.
OTFS was developed using a theory in representational mathematics, explained Seshadri Sathyanarayan, vice president of product management, in an interview with Light Reading. It addresses a problem with current modulation schemes whereby when a signal moves from Point A to Point B, it bounces off objects in the wireless channel.
"That causes both a delay in the channel of the transmission as well as a shift in its frequency and its propagation characteristics," says Sathyanarayan.
But with OTFS, the way the signal is transmitted allows it to recover energy along its path.
"A stable, reliable recovery of the signal is really what this is able to do," notes Sathyanarayan.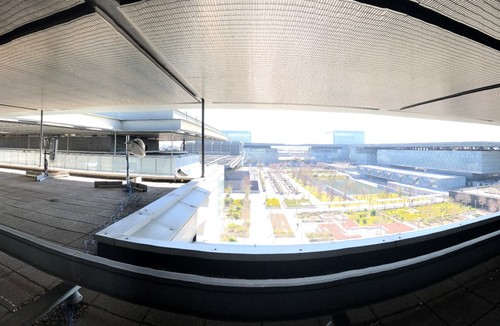 The 5G turboConnect fixed wireless solution is designed for dense urban environments with a range of a few hundred meters to up to 2km. Telefonica tested the technology at its headquarters in Madrid, but the solution could theoretically be placed around a city to provide connectivity at a much cheaper rate than wireline alternatives.
Cohere is also looking far beyond fixed wireless applications. The company would ideally like to bring OTFS modulation to the 5G mobile standard, embedding it in chipsets that would one day go into connected devices of all kinds.
---
You're invited to attend Light Reading's Big Communications Event -- the ONE event that delivers fresh perspective on the rapid transformation of the telecom industry and the road ahead. We'll see you May 14-16 in Austin -- communications service providers get in free!
---
Cohere's goals are ambitious, but the company and its leadership also bring with them a good deal of credibility from past and present projects. CEO Shlomo Rakib co-founded cable technology company Terayon in the 1990s (later sold to Motorola), where he invented S-CDMA technology. S-CDMA is a critical part of the DOCSIS 2.0 cable specification. Rakib was also part of Gainspeed, the cable access technology company acquired by Nokia Corp. (NYSE: NOK) in 2016, which has had success as a pioneer in cable distributed access architectures. (See Nokia Swings Deal for Gainspeed and Nokia Swings Deal for Gainspeed.)
At Cohere, the technology team behind 5G turboConnect has attracted investment from both cablecos and telcos, including Altice and Telstra Corp. Ltd. (ASX: TLS; NZK: TLS), and the company has already completed several commercial trials. In addition to Telefónica , both Altice and Telstra have conducted fixed wireless tests with Cohere, as has Charter Communications Inc. and Deutsche Telekom AG (NYSE: DT).
Whether Cohere can affect development of the 5G mobile standard remains to be seen. But, as a fixed wireless technology provider, the company has already demonstrated promise. Sathyanarayan says several more operators are scheduled for trials in the early part of this year.
— Mari Silbey, Senior Editor, Cable/Video, Light Reading
PARTNER PERSPECTIVES
- content from our sponsors