There's an old horror movie where the victim is repeatedly terrorized over the phone only to discover her stalker is calling from inside the house. Now, in a less fantastical spin on that pre-cell-phone-age story, Charter is working on small cell technology to move certain mobile phone activity from an outside cellular network to its own in-home wireless infrastructure. Not only can the call come from inside the house, it will also run from device to device locally without ever dumping traffic back on the cellular network outside.
Charter Communications Inc. 's SVP of wireless technology, Craig Cowden, says specifically that future small cells from the cable operator will be embedded in home gateways. These all-in-one devices won't just marry a WiFi router with a cable modem. They'll also mix in IoT radios and a range of small cell technologies.
"In the future, and actually not very far into the future, we're going to have a wireless convergence device in that home," Cowden said at the recent Wireless Global Congress put on by the Wireless Broadband Alliance . "So it's not just WiFi. We'll put in LTE small cells in that same device. We'll put IoT radios in that same device. Eventually ... we'll put millimeter wave small cells in that same device." (See also Cisco: Cable Nets Can Backhaul Small Cells.)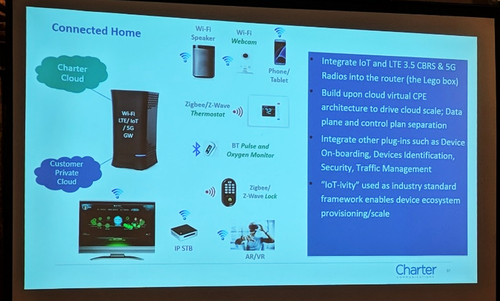 Charter's home gateway ambitions are part of a much larger effort by the company to build out a new wireless business leveraging much of its existing infrastructure. That effort starts with a new mobile service that the operator is scheduled to launch in the second quarter of 2018 through an MVNO partnership with Verizon Communications Inc. (NYSE: VZ). However, it also includes investments in technologies that will ultimately let Charter transition mobile traffic off of Verizon's network and on to its own.
The cable company is pinning many of its near-term wireless hopes on spectrum in the 3.5GHz frequency band. Also known as Citizens Broadband Radio Service (CBRS), the 3.5GHz band will be apportioned into both licensed and unlicensed frequency blocks, giving new players (like Charter) access to LTE connectivity. (See US Interest Grows in 3.5GHz Wireless Broadband .)
Currently, Cowden says Charter is testing the maturity of the CBRS ecosystem and 3.5GHz small cells with trials running in Charlotte, N.C. and Tampa, Fla. These trials include four vendors in each market (a total of eight), covering a total of 400 sites. Charter is testing mobile handoffs both within and among single-vendor clusters and expects to evaluate initial results before the end of the year.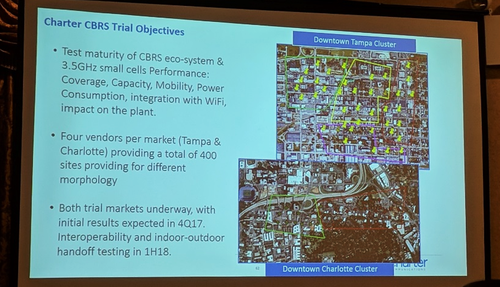 Naturally Charter isn't planning to deploy small cells just in consumer gateways. Cowden says that as more fiber nodes are built out in the future, Charter will also integrate small cells into those node sites. And even if not all node sites are appropriately located to host a small cell, the fact that cable operators are predicting at least an increase of 8x nodes over the next several years means there will be many sites to choose from.
As for the small cell vendors Charter is working with, the cable company has already confirmed Samsung Corp. as a partner both in 5G and small cell trials. (See Charter Reveals New Details on 4G/5G Trials.)
Ericsson AB (Nasdaq: ERIC) is another likely bet given the vendor's work on DOCSIS small cell technology. (See Ericsson Is Building a DOCSIS Small Cell.)
And information that was leaked through an FCC filing this summer (and first reported by Wireless Week) shows that Nokia Corp. (NYSE: NOK) is testing CBRS small cells with Comcast Corp. (Nasdaq: CMCSA, CMCSK), which would make Nokia another reasonable candidate for Charter's trials as well.
It's probably worth calling it now. It looks like 2018 will be the year of cable small cells.
— Mari Silbey, Senior Editor, Cable/Video, Light Reading