Telcos Pony Up for Hurricane Harvey Relief
Let it not be said that telecom companies sat idly by in the wake of Hurricane Harvey's Gulf Coast destruction. Following the storm that dumped more than four feet of rain in parts of Texas, and has now made second and third landfalls impacting Louisiana, all four major wireless carriers have suspended talk, text and data fees for victims in the hurricane's path. In addition, cable and telecom companies have donated cash and in-kind services to help ongoing relief efforts.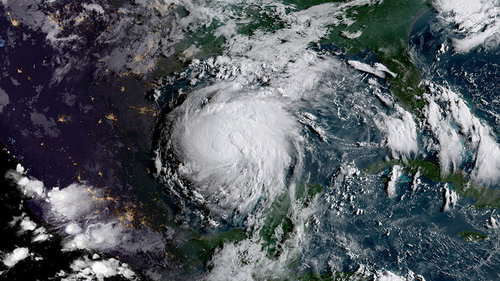 At the top of the list, Verizon Communications Inc. (NYSE: VZ) has announced a $10 million pledge in funding to four nonprofit agencies dedicated to helping Gulf Coast residents recover from the storm. On top of that donation, the carrier is also setting up mobile communications units, helping on-site first responders with communications needs, staffing shelters, providing assistance to employees in the area and offering further dollar-for-dollar matches of employee contributions to relief efforts. Verizon similarly provided aid in the region a dozen years ago after Hurricanes Katrina and Rita, offering two-to-one donations to match employee contributions and supporting employee volunteers.
Comcast Corp. (Nasdaq: CMCSA, CMCSK) is also sending money to support Hurricane Harvey victims. The cable operator is donating half a million dollars in cash and making advertising time available for free to support public service announcements providing storm recovery information to local citizens. Through its NBC and Telemundo television stations, Comcast is running phone banks and telethons to share further news on flood relief efforts. And Comcast has opened up 53,000 Xfinity WiFi hotspots for free use by anyone in the area during the recovery period.
Beyond waiving fees for customers, AT&T Inc. (NYSE: T) is contributing $350,000 to emergency efforts after Hurricane Harvey. The company is also matching employee donations to support AT&T workers in the area, and to aid the organization Team Rubicon, which provides disaster response assistance to veterans.
As for how communications infrastructure is holding up to storm damage, the Federal Communications Commission (FCC) is providing regular reports on service outages. In the latest snapshot, the FCC noted that 4.7% of cell sites in the disaster area were down, with two counties facing outages at more than 50% of local cell sites. Nearly 300,000 wireline subscribers were without service, and seven radio stations in the region were off the air. Emergency 911 services were also affected, but all 15 Public Safety Answering Points (PSAPs) that dropped service were reportedly rerouted.
— Mari Silbey, Senior Editor, Cable/Video, Light Reading
PARTNER PERSPECTIVES
- content from our sponsors