This is a big year for Ruckus at Mobile World Congress. Not only is it the first time the subsidiary company is appearing at the show since being acquired by Arris, but Ruckus is also making major product announcements in two important emerging areas of wireless technology: industrial IoT and Citizens Broadband Radio Service (CBRS).
In the IoT space, Ruckus Wireless Inc. is working to create a secure overlay on existing enterprise WiFi networks that supports protocols like Zigbee and Bluetooth Low Energy (BLE) and allows customers to control a single, multi-layered local area network, rather than multiple LANs using different technologies. The company's new solution set includes IoT modules that can be attached to select Ruckus WiFi access points, and a virtual IoT controller that customers can use to create policies and rules determining how IoT devices on the network behave.
The idea behind Ruckus's IoT strategy is similar to what drives IoT hub use cases in a smart home. Customers want to control multiple devices from the same network gateway.
However, enterprise users don't want to rely on a consumer-grade product, nor do they want to have to install multiple new devices -- dropping Amazon Echo hardware alongside WiFi access points throughout a facility, for example -- in order to handle different protocols.
"Now maybe in the home because it's small premise, [that approach] may be okay," says Dennis Huang, director of enterprise product marketing at Ruckus. "But within the enterprise that's actually a really difficult thing. Because within the enterprise you already have an existing wireless LAN overlay network with access points distributed throughout the enterprise." Adding another set of standalone network products just introduces more complexity.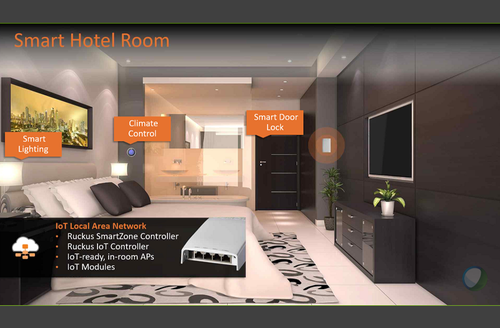 Ruckus is also partnering with companies in several targeted verticals in order to make the business case for a managed IoT LAN. In hospitality, the partner is Assa Abloy, which provides key cards for hotel chains. In retail and warehousing, it's Tile and TrackR for inventory logistics. And in the smart cities space, Ruckus is partnering with Actility , which has developed the ThingPark platform to make it easier to onboard and manage LoRaWAN applications, including smart parking, connected streetlights and more. (See also Don't Put a SIM Card in a Rodent Trap.)
Initially, Ruckus is debuting only one IoT module that supports both Zigbee and BLE. But a LoRA module is scheduled to follow shortly, and new partners are expected as well.
Seeing opportunity in CBRS
In the CBRS sector, Ruckus is using Mobile World Congress to announce the expansion of its OpenG portfolio of access points for fixed, mobile and private LTE services. Supporting the 3.5GHz CBRS band, these access points are paired with Ruckus cloud services and designed to make deploying LTE more like implementing a WiFi network – i.e. easier to manage and, in some cases, requiring no licensed spectrum.
"It's kind of cheating, CBRS," says Oren Binder, director of LTE product marketing at Ruckus, "because we're getting this free spectrum that other operators have been paying billions for, and all of a sudden this is falling out from the sky."
What Binder means is that the FCC is opening up the 3.5GHz frequency band in a shared spectrum model. Incumbent users in the band will get protection from interference where they operate. Priority access users will be able to license 10 megahertz channels of spectrum in the band in relatively small geographic areas and for limited time periods. And general authorized access users will be able to leverage any unassigned spectrum, including priority access channels that haven't been scooped up by paying service providers.
---
You're invited to attend Light Reading's Big Communications Event – the ONE event that delivers fresh perspective on the rapid transformation of the telecom industry and the road ahead. We'll see you May 14-16 in Austin – communications service providers get in free!
---
In the near term, this is a huge opportunity for the enterprise. Companies won't have to lease spectrum from an operator in order to deploy a private LTE network. Instead, they will be able to partner with Ruckus, which will not only provide the necessary hardware, but will also help them manage the shared spectrum in the CBRS band.
Why would a company want a private LTE network? Sometimes the answer is security (or at least perceived security), and sometimes it's to meet the demands of a particular application. For example, Binder cites a courthouse that wants to position non-wired, real-time security cameras all over its facility, inside and out. That's easier to do (and easier to manage the repositioning of cameras) with an LTE network than a WiFi one.
Farther out on the horizon, CBRS technology will also open up whole new business opportunities in the service provider space. Mobile operators will be able to augment existing spectrum capacity or introduce new fixed wireless services, and wireline operators (think cable companies) will be able to create their own alternative mobile footprints, supplementing any mobile virtual network operator (MVNO) deals they might make with traditional wireless carriers. (See Don't Laugh, Charter Is Testing '6G' Wireless.)
Once mobile devices are equipped with 3.5GHz radios (probably in 2019), companies will also be able to improve wireless coverage in their buildings by introducing neutral-host small cells that interoperate with services from all of the major mobile providers. Again, that application is further down the line, but ultimately it should help improve a lot of indoor connectivity.
For now, Binder says Ruckus is already seeing a lot of interest in CBRS in the private LTE network category. In fact, it's in trials with some companies today.
"More than two years ago we made a big bet on this, and two years ago I couldn't find anybody who understood what I was talking about honestly," comments Binder. The situation is very different now. CBRS is a big topic in wireless circles, and it's set to get even bigger with new products like the ones Ruckus is launching at Mobile World Congress.
— Mari Silbey, Senior Editor, Cable/Video, Light Reading