Mobile Is No Passing Fad for US Cable
Just how serious is the cable industry about wireless? Serious enough to contribute to the Telecom Infra Project (TIP) with technical expertise on virtualized radio access networks (vRAN). Serious enough for Comcast to show up at Mobile World Congress to talk about the company's early successes with Xfinity Mobile. And serious enough for cable operators' discussion of their mobile ambitions to move far beyond mobile virtual network operator (MVNO) agreements and toward a debate over how small cells will evolve to support hybrid wireless network architectures.
A year ago, skepticism over cable's ability to enter the mobile market still ran high, probably because the WiMAX disaster of a decade ago still hadn't (and hasn't) drained out of institutional memory. But since then, the mood has progressed from widespread wariness to more of a sense of inevitability. This is where cable is headed, and if operators don't pursue the wireless cause, they risk losing out to telco competitors.
CableLabs is at the forefront of cable wireless development. The nonprofit research organization recently revealed some of the work it's done with Telecom Infra Project (TIP) to standardize vRAN interfaces to make it possible for remote radio units to communicate with virtualized baseband radios. Why is this important? Well first, it's remarkable to see a cable organization working on vRAN, a core technology for the development of 5G mobile networks. But more broadly, the work is critical because it promises to make it more cost-efficient to deploy advanced wireless radio networks and for those networks to work with existing wired infrastructure as fronthaul support. (See also Cisco: Cable Nets Can Backhaul Small Cells.)
"With this new interface, the addressable market for virtualized RAN (vRAN) deployment architectures can grow significantly," says Joey Padden, a principal architect at CableLabs in a blog post, adding that, "This increased market is evidenced by the diverse set of use cases being sponsored by the growing set of operator-based TIP Community Labs."
Those use cases include one sponsored by CableLabs focused on fronthaul compression and latency to enable vRAN deployments over DOCSIS networks.
Other use cases include the optimization of fronthaul over other types of networks including managed Ethernet, G.Fast, microwave and in-band cellular.
But the cable industry isn't only focused on the technical challenges of entering the mobile space. As Comcast Corp. (Nasdaq: CMCSA, CMCSK) showed this year at Mobile World Congress, operators are also closely examining how to make new mobile services work operationally.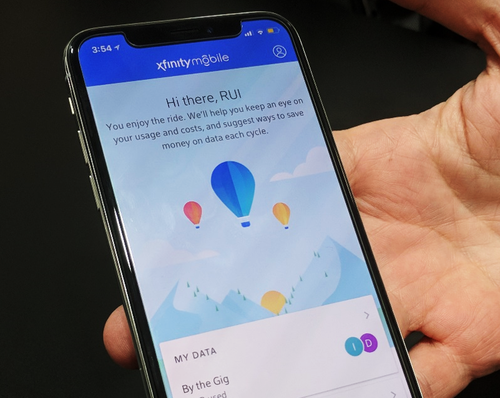 Rui Costa, a Comcast VP for product management and customer experience, spoke at MWC on a panel about the mobile customer experience, and also with Light Reading about what the operator has learned in the short time since it launched Xfinity Mobile.
For example, Costa says there's been a learning curve around digital sales, a channel that cable operators historically haven't leveraged in a significant way. Comcast initially thought it might do 20% or 30% of mobile service sales online rather than through a retail store.
"And here we are, and this is public, [at] more than 50%, which is very encouraging for us," says Costa.
Costa notes that it's still too early in the Xfinity Mobile deployment to share conclusions about how the service might need to evolve technically in the future, but he points out that Comcast is already exploring new service features including the ability for customers to bring their own phone to the service and the integration of Xfinity Mobile with the X1 entertainment platform with functions like "find my phone" tied into the X1 voice remote.
---
Get your strategic roadmap to the technology trends and business cases shaping the cable industry! Join us for the Cable Next-Gen Technologies & Strategies event in Denver on March 20-22. Don't miss this exclusive opportunity to network with and learn from industry experts – communications service providers get in free!
---
And then there is the cable small cell revolution. If Comcast is the cable operator making noise about consumer-facing mobile services, Charter Communications Inc. is the operator working most obviously in the background to determine how small cells can be used to support both licensed and unlicensed spectrum to enable hybrid wireless network environments.
Charter CEO Tom Rutledge recently described his company's approach as "6G" wireless, a combination of "unlicensed and licensed spectrum working together interchangeably with our advanced DOCSIS roadmap to create high-capacity, low-latency product offerings." (See Don't Laugh, Charter Is Testing '6G' Wireless.)
This so-called 6G strategy may be as much about branding as it is about actually creating a brand new wireless technology, but it's also an indication of how much Charter is investing in mobile development. For Charter, and for the US cable industry as a whole, mobility is no longer a nice-to-have element on the product roadmap; it's an essential part of cable's evolution.
Mobile isn't a fad for cable. It's the future.
— Mari Silbey, Senior Editor, Cable/Video, Light Reading
UPCOMING LIVE EVENTS
June 6-8, 2023, Digital Symposium
June 21, 2023, Digital Symposium
December 6-7, 2023, New York City
All Upcoming Live Events
PARTNER PERSPECTIVES
- content from our sponsors