DENVER -- SCTE/ISBE Cable-Tec Expo -- Liberty Global knows a little something about mobile services. The company runs a mobile business in nine countries in Europe and throughout Latin America and the Caribbean. So when CEO Mike Fries took the stage at SCTE/ISBE Cable-Tec Expo with Comcast Cable President of Technology and Product Tony Werner, he had a few words of advice for his US cable counterpart.
"What we've learned is if you're going to go MVNO (mobile virtual network operator) -- and this is relevant to you though I'm not going to tell you what to do," Fries joked to Werner, "you need a full MVNO. You need a thick MVNO. You need to control the customer experience, core network. You really just want to rent the tower and the radio if you can do that. It gives you product parity and pricing parity against the guys who actually have that infrastructure."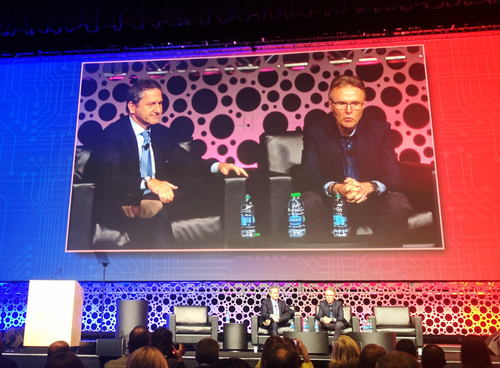 In fact, Fries' preference for his own company is to own mobile networks where possible, rather than partner to become virtual mobile operator.
"If you're not going to build it, own the spectrum, put the towers up, then you're renting it and your margins are skinny and how do you compete with unlimited? That's the issue," explained Fries. "So where we can we're buying the networks."
Of course, in the US, there's been ongoing speculation about merging a major cable company with a major wireless carrier. There was a time when many thought Comcast Corp. (Nasdaq: CMCSA, CMCSK), or more likely Charter Communications Inc. , might merge with Verizon Communications Inc. (NYSE: VZ), but that deal talk has died down more recently, particularly as Comcast seems to have worked out the economics of its MVNO arrangement with the telco. (See Comcast Rings In Xfinity Mobile Nationwide.)
So it looks like the big US cable companies aren't likely to own a mobile network in the near term, but that doesn't mean they can't make the most of what they do have.
As Werner commented back to Fries, "Mobile is fierce competition... But when you take mobile and you combine it with fixed line and you combine with video and maybe you combine it with a couple of other pieces," then the effects on churn are significant.
Fries agreed. As difficult as mobile competition can be, said the Liberty Global Inc. (Nasdaq: LBTY) CEO, "The quad play works. It reduces churn. It drives engagement. It keeps ARPU hovering where it needs to be."
---
For more cable market coverage and insights, check out our dedicated cable content channel here on Light Reading.
---
Throughout the conversation between Fries and Werner, the dominant theme was the value and strength of cable's broadband networks. Whether that connectivity is delivered to the home, to the business, or to any wireless end point, both men emphasized that broadband is cable's killer app.
Fries also pointed out that the industry continues to invest heavily in its network assets. Liberty, he said is putting more money into its infrastructure today as a percentage of revenue than it did years ago.
Comcast is also spending more money on capacity expansion. The company's total capex budget jumped from $6.2 billion in 2014 to $7 billion in 2015 and $7.6 billion in 2016. And the first half of 2017 shows that upward trend continuing. (See The Title II Capex Argument Is Ridiculous.)
Those investments are critical. No matter whether cable companies are delivering wired or wireless connectivity, they can't succeed in business without that network infrastructure as a foundation, and without upgrading its capacity to meet the continued growth of consumer demand.
— Mari Silbey, Senior Editor, Cable/Video, Light Reading