Also in today's EMEA regional roundup: ADVA lands Luxembourg deal; Orange completes SecureLink acquisition; Telefónica extends its Internet-access-for-resale service; a Spotify for Africa.
Orange CEO and Chairman Stephane Richard has been cleared in a French court of complicity in fraud, drawing to a close one of telecom's longest-running legal sagas and, as Reuters reports, clearing the way for him to remain in charge at the operator. The allegations dated back to 2008, when Richard was accused of helping businessman Bernard Tapie cheat the French government out of around €403 million (US$455 million). (See Eurobites: Orange's Richard Braced for Fraud Case Verdict.)
Network operator POST Luxembourg has deployed ADVA's ALM fiber monitoring solution on key sections of its dark fiber infrastructure in an effort to gather more accurate monitoring information and thus improve service availability. "Field technicians can monitor our infrastructure from anywhere in Luxembourg by simply using a secure custom environment running on any tablet PC and remotely identify any areas of concern," said POST Luxembourg project manager Patrick Rausch in a press release about the deployment. "We can then take targeted action even before SLA incidents are raised. It's a useful tool in our mission to limit downtime, improve efficiency and give our customers a crucial competitive advantage," he added.
Orange has completed the acquisition of Texas-based SecureLink for €515 million ($576.8 million). The France-based group is hoping the deal will buff up its cybersecurity credentials in Europe, as SecureLink already has teams in place in Sweden, Belgium, the Netherlands, the UK, Germany, Denmark and Norway. SecureLink has around 660 employees.
Meanwhile, Orange Business Services (OBS) has landed a significant SD-WAN deal with Sony Group. OBS will connect more than 500 Sony locations across more than 50 countries with its Flexible SD-WAN offer. (See Orange Business Services to Transform Sony's Global Network to Drive Business Efficiency.)
Telefónica's wholesale business unit, Telefónica International Wholesale Services (TIWS), has extended the reach of its Internet-access-for-resale service to more than 30 countries across Europe and Latin America. This service addresses the needs of carriers that are required to provide Internet services to locations outside their direct footprint for end-user applications including cloud apps and HD video streaming.
On the domestic front, Telefónica has signed an agreement with soccer demi-gods Real Madrid to become the club's "technological integrator" until June 2023.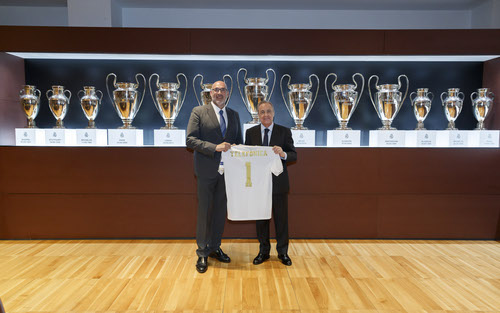 South Africa is ahead of the pack when it comes to mobile download speeds in Africa, according to new research from Opensignal. Recording an average "download speed experience" of 15 Mbit/s, South Africa pushed Tunisia and Morocco into second and third spot respectively, while Algeria propped up the rest with an undernourished 3.1 Mbit/s. For more details on the research, see this story on our sister site, Connecting Africa.
Spotify, the Swedish music-streaming service, has released a new "Lite" version of its app that it hopes will appeal to customers in emerging markets who have more basic phones and sketchy connectivity. As Bloomberg reports, the Android app has been released in 36 markets.
Moscow's Department of Information Technologies is to set up a 5G demo center, which will be open to both Russian and foreign companies hoping to put 5G-based applications and services through their paces. By the end of the year, the Moscow authorities hope to establish four 5G pilot zones within the city, each one operated by one of Russia's four major providers.
Red Bee Media, the UK-based media delivery specialist, has teamed up with Sweden's Nenda to provide the hospitality industry with a hotel-room video streaming service that will offer bedroom-bound guests "personalized" and on-demand shows during their stay.

— Paul Rainford, Assistant Editor, Europe, Light Reading