11:10 AM -- It's not easy to offer a free app and later expect users to pay for it, but mobile music recognition app Shazam is one of the few that's popular enough to do so successfully. It's already made the switch on the iPhone, and today announced that Shazam Encore, its premium app, is replacing the free option on Android Marketplace.

The Encore app will cost $4.99 for unlimited tagging and recommendations, and a Freemium version will still be offered, but only for a seven-day trial. After the first week, users can upgrade to Encore or receive five tags a month thereafter.

Shazam has been on Android since the beginning, and Alex Musil, its VP of product marketing, says it won't forget its early evangelists, so existing customers that have already downloaded the free app will continue to get unlimited tagging.

The music app is built around the simple concept of identifying a song with the mobile phone and offering easy integration to purchase it. It launched on the Apple Inc. (Nasdaq: AAPL) App Store in 2008, and introduced the paid version a year later. From the iPhone, it quickly accumulated 12 million new users, bringing its total to 75 million worldwide.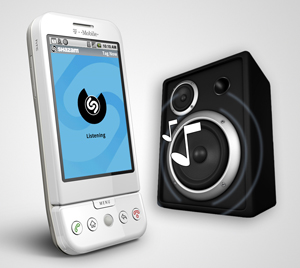 The service also lets users purchase the song they tag from iTunes, Amazon.com Inc. (Nasdaq: AMZN) on Android, and Fox Music, which sells ringtones and full tracks in countries outside of the US.

"It's not just a commerce or business reason we have [purchasing mechanisms] in there," Musil says. "Oone of the most popular things people do with a tag is purchase it. It's why they tag a song."

It's easier to tag a song on Shazam and tap 'buy' than it is to open the browser, search for lyrics, and hope to find it, then switch to iTunes, Musil added. In the US, Pandora Media Inc. integration also lets users access the music streaming site through the Shazam app to listen to a station from their tags.

Other app happenings this week:


Shazam may benefit from the "Paid App Pledge," a movement organized by the AndroidGuys to spend at least $5 per week on Android apps. It was started to disprove the theory that Android users won't pay for good apps as the platform grows in popularity, but not profits.


Want another way to get paid? Develop for Microsoft Corp. (Nasdaq: MSFT). It is paying developers to build apps for Windows Phone 7 in a bid to compete against arch rivals Apple and Google (Nasdaq: GOOG). Microsoft is using financial incentives including free tools, test handsets, and funds for software development and marketing, even revenue guarantees in some cases, reports Business Week.


Facebook is over one-off mobile apps. It wants to create a mobile platform for app development, like it has on the desktop. Erick Tseng, the Book's head of mobile products, told VentureBeat attendees that part of the mobile strategy would be to tie location to social networking and make app discovery and distribution more social.

— Sarah Reedy, Senior Reporter, Light Reading Mobile