LAS VEGAS -- CES 2016 -- CES hasn't even officially begun, but at the CES Unveiled showcase, the robots were already running rampant and the Star Wars-themed gadgets on full display*. That doesn't mean those were the only cool technologies on offer, however. Here are three finds that may have escaped casual browsing, but are worthy of note just the same.
Speedify combines the best of cellular and WiFi
New techniques for intelligently managing home WiFi networks are just beginning to gain momentum, but Speedify has a different (if related) proposition in mind. The Philadelphia-based company has developed technology to optimize the use of both cellular and WiFi networks in a single app for iOS and Android devices. Speedify analyzes a user's data traffic and divides it up packet by packet between available Internet connections. One third of a file, for example, might be transferred over a cellular link, while the other two thirds are transferred over WiFi.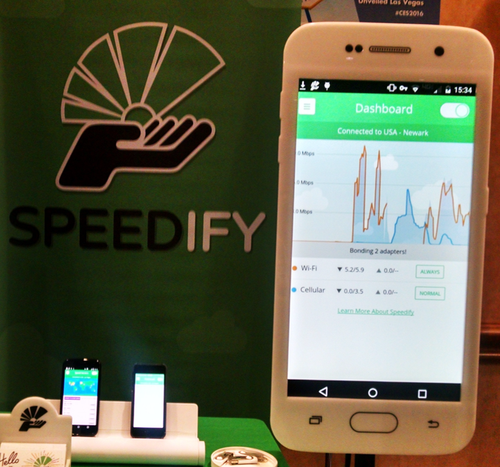 CEO Alexander Gizis describes the technology as similar to a virtual private network (VPN). A VPN creates a single socket or tunnel for secure traffic. "What we do," says Gizis, "is make lots of connections, lots of sockets." Those connections enable data to be parceled out according to network performance and other factors such as a looming data cap on a user's mobile Internet plan.
The Speedify app is available now with a freemium model offering 1GB for free and additional data allowances for a monthly or yearly fee.
Alarm.com adds Amazon Echo and Apple TV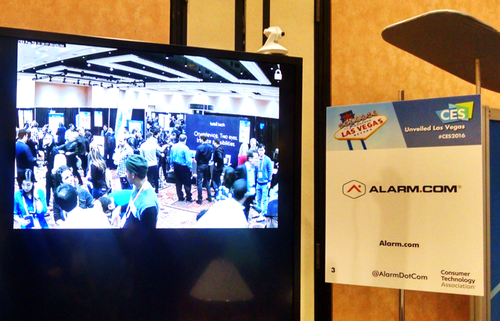 It's hard to see home security as sexy, but that is the application that's driving the smart home market today, and Alarm.com Inc. is doing its best to make cloud-based security services just a little bit cooler. The company, which is largely known for its sales through the security dealership channel, has announced integration with both the Amazon Echo device and the Apple TV. Customers still buy Alarm.com service from a service provider, but now they can control different features through the popular retail products. Users can watch security camera footage on the Apple TV or tell the Echo to turn off lights connected to an Alarm.com plug-in module.
The pairing of Alarm.com's services with retail hub devices should ring a warning bell for cable and telecom providers. Cable companies and telcos may want to control smart home services with their own home gateways, but if products from Amazon.com Inc. (Nasdaq: AMZN), Apple Inc. (Nasdaq: AAPL) and others prove more popular, service providers are going to feel the pressure to integrate with third parties, following Alarm.com's lead. (See RDK-B Could Revolutionize Home Network and Google Debuts Smart WiFi Router OnHub.)
Vuze aims to usher in the "Go Pro" era for VR

Creating virtual reality content isn't cheap, but HumanEyes Technologies plans to make it a little more accessible to enthusiasts with Vuze, a 4K, 360-degree camera and software package priced under $1,000. The camera that the company is showing in Las Vegas is still a prototype, but HumanEyes expects to start taking pre-orders for the real thing in March, with a goal of launching the product in September.
Assuming Vuze doesn't go the way of CES vaporware products from years past, the camera could mark the start of a wave of mainstream, user-generated virtual reality content. That has huge implications for bandwidth because for each file that Vuze creates, it stitches together eight 4K video streams. Suddenly gigabit broadband doesn't sound like overkill after all. (See Chattanooga Charts Killer Gigabit Apps.)
*Don't worry, there is a photo roundup of the craziest CES gadgets coming. Because, well, robots.
— Mari Silbey, Senior Editor, Cable/Video, Light Reading