As CEO of Orange Silicon Valley, Mireille Helou's mission is to bring Californian innovation back home, and raise awareness of Orange in the States.
Orange customers include great swathes of Africa and the Middle East, including many undeveloped and rural areas. Helou talked about how technology can be a game-changer for social and economic progress in those countries, including how mobile payments -- a big business for Orange -- can transform lives and economies.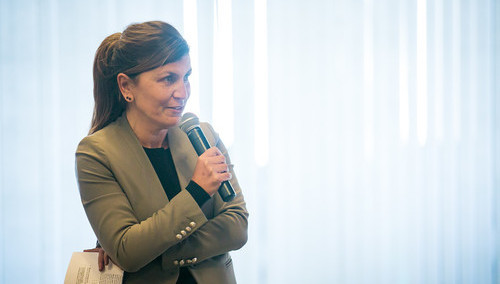 ---
Deep dive into real-world issues and virtualization deployment challenges with industry leaders. Join Light Reading at the annual Network Virtualization & SDN Americas event in Dallas, September 17-19. Register now for this exclusive opportunity to learn from and network with industry experts. Communications service providers get in free!
---
"Orange Silicon Valley is an innovation hub present in the US and San Francisco for the last 20 years," Helou says. "We try to make innovation and technology from this part of the world visible, accessible and actionable for Orange and our customers."
As a demonstration of the value of innovation, Helou notes that in Africa, Orange has seen 10% digital penetration can increase productivity by 4.2%. Mobile technology has contributed 14% of GDP growth in Senegal, and one job in the mobile telco world leads to ten indirect jobs created elsewhere, Hellou says.
We also talked about how Orange measures results and business value (because if "tracking innovation" was my job, I'd just spend all day reading MIT Technology Review and watching YouTube videos [Editor's note: You mean that's not what you do?]).
The Light Reading podcast is available on Google Play, Apple Podcasts, Spotify and SoundCloud.
Related posts:
— Mitch Wagner




Executive Editor, Light Reading