MWC 2010 Photos:

Motorola Booth Tour
Just how do people view
Motorola Inc.
(NYSE: MOT) these days? The company has had something of a tumultuous year, though its future seems a little clearer now. (See
Moloney Saying Good-Bye to Moto
,
Moto Wants to Do the Splits
,
Moto May Be Mulling Set-Top Sale
,
Is Moto Having Second Thoughts?
, and
What's Moto's Next Move?
)
So we were keen to see what kind of face the company would put on in Barcelona, and how it would respond to the challenge we had given seven of the wireless sector's leading equipment vendors: Tell us about, and show us, the three most important things being promoted at the booth in just 10 minutes. (See
MWC 2010 Photos:

Ericsson Booth Tour
,
MWC 2010 Photos:

ZTE Booth Tour
,
MWC 2010 Photos:

NEC Booth Tour
,
MWC 2010 Photos:

Nokia Siemens Booth Tour
, and
MWC 2010 Photos:

AlcaLu Booth Tour
.)
To find out what Moto had to show, check out our snaps, with accompanying text, by clicking on the picture below to launch the slideshow, and read the final picture caption to find out how we graded Motorola's overall effort.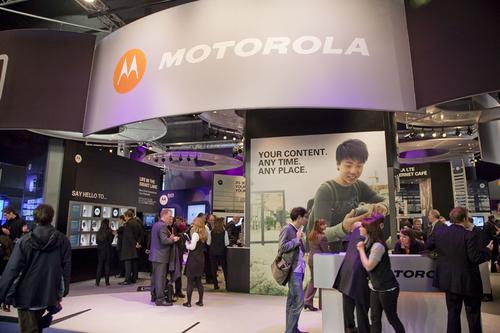 Programming notes
This year's booth tours were different from 2009's format, where we gave the companies 20 minutes to talk about as many things as they wanted.
The Motorola team seemed well prepared, and had chosen three areas of perceived strength for the company: video, mobile broadband, and devices.
The company was pushing the "personal video experience" and talked specifically about how its involvement in the Shanghai Expo TD-LTE network will allow it to show how it can deliver multiple optimized video streams to different types of end devices. (See
Motorola's Shanghai Hope
.)
In the mobile broadband realm, the company claims to now have about 10,000 WiMax base stations and more than 1 million WiMax end user devices deployed, with lower-cost Wimax devices on the way (though the company wouldn't discuss price or cost-point specifics).
In the LTE market, Motorola's keen to point out that it's not just helping out in Shanghai, and that it's been working with
ZyXEL Communications Corp.
on the development of an LTE home gateway (with a Moto chipset embedded). (See
Zain Saudi Arabia, Moto Sign LTE Deal
.)
When we got to the devices, the Moto team showed us the new Quench touch tablet, an Android device running the MotoBlur service, which aggregates a user's social networking services so that only one log-on is required to get to all contacts and updates.
It was a decent show by the Motorola team, who coped well with having to explain stuff (especially in the handset area) to a jaded and not-very-handset-savvy editor.
The pictures were taken by our local maestro
Siqui Sánchez
. The captions are not his doing.
— Ray Le Maistre, International Managing Editor,
Light Reading
PARTNER PERSPECTIVES
- content from our sponsors