NEW YORK -- Verizon Communications Inc. (NYSE: VZ) FiOS TV subscribers will be able to access video on demand (VoD) on the iPad, iPhone, and a range of Android smartphones starting in the fourth quarter, with the addition of live TV channels set to arrive sometime in 2011.

Verizon detailed its TV Everywhere strategy during a briefing here at the apartment of its chief information officer, Shaygan Kheradpir, unveiling a new interactive program guide for FiOS TV and a cloud-based strategy for allowing subscribers to access VoD content on TV, PCs, and mobile devices. But it was Verizon's iPad app, which would allow subscribers to view live TV channels on Apple Inc. (Nasdaq: AAPL)'s new tablet computer, that drew the most attention.

Kheradpir and other executives demonstrated that app, which they claimed would allow subscribers to discover TV programming using a grid that displays video thumbnails from the 12 most popular networks in local FiOS TV markets in any given moment based on viewing data. Today's demonstration displayed thumbnails of the most popular networks in FiOS TV's New York region.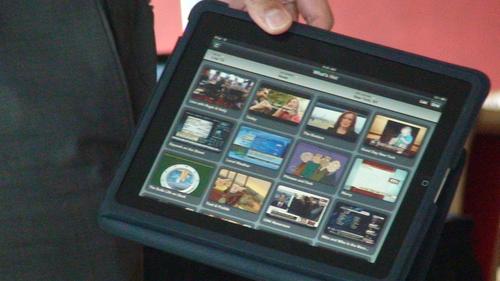 FiOS TV vice president of consumer strategy and planning Shawn Strickland said subscriber viewing of live TV channels on the iPad will initially be limited to subscriber homes. [Ed. note: Cablevision Systems Corp. (NYSE: CVC)'s live TV app for the iPad will possess similar in-home viewing restrictions, at least early on.]

He said Verizon would not have to pay programmers additional fees to provide access on the iPad. "That's no different than a set-top. We don't pay on a set-top basis," Strickland said.

But he acknowledged that Verizon doesn't yet have agreements in place with programmers that would allow it to distribute live TV channels to the iPad and other mobile devices to subscribers who are outside of their homes. An executive from Turner Broadcasting System Inc. attended the Verizon presentation, and content from the company's CNN was displayed throughout the briefing.

Calling Verizon's TV Everywhere strategy a "triple play to the triple screen," Strickland said the applications give FiOS TV competitive edge over rivals such as Comcast Corp. (Nasdaq: CMCSA, CMCSK), Time Warner Cable Inc. (NYSE: TWC), and Cablevision, which are also developing applications for the iPad. (See TWC Preaches Openness With iPad Tilt , To Xfinity... & Beyond!, and Cablevision to Deliver Live TV & VoD to iPad.)

"We see a strong differentiator there. We think we're fully ahead of the competition," Strickland said, noting that he believes Verizon's TV Everywhere strategy will help it win new video customers.

Verizon also unveiled a new IPG, user interface, and Media Manager application for FiOS TV that lets customers buy content with a click of their FiOS TV remote control, and access the videos on up to five mobile devices. The new guide will debut during the fourth quarter, Verizon said.

— Steve Donohue, Special to Light Reading Cable