ESPN Pipes Live TV to Apple Devices
ESPN has expanded its TV Everywhere game with the launch of "
WatchESPN
," a new app for
Apple Inc.
(Nasdaq: AAPL) iPads, iPhones and iPod Touch devices that delivers the live feeds of the company's flagship channel, as well as ESPN2, ESPNU and the broadband-only
ESPN3.com
streaming service.
The catch is that access is limited to consumers who subscribe to
Verizon Communications Inc.
(NYSE: VZ) FiOS TV and cable TV services from
Time Warner Cable Inc.
(NYSE: TWC) and
Bright House Networks
, though other ESPN affiliates are expected to join the mix soon.
As it did with the launch of ESPN3 and followed with the PC-based, authenticated feeds of ESPN, ESPN2, ESPNU and ESPN Buzzer Beater/Goal Line, the sports net is foregoing a stand-alone streaming service in favor of a model that only allows access to the app to consumers who subscribe to service provider affiliates that have paid for the privilege. ESPN hasn't disclosed specific numbers on what they are paying or how much revenue is being generated.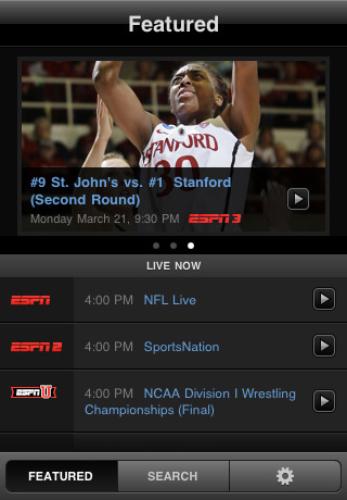 Consumers who download the WatchESPN app will be required to authenticate themselves by entering their pay-TV service credentials
ESPN said it intends to launch similar apps for other smartphones and tablets "in the near future."
Why this matters
While service providers and programmers kicked off TV Everywhere efforts with on-demand content, getting access and rights to live, linear channels has been a stickier proposition. In some cases, MSOs are getting permission up front, while acting first and asking forgiveness later in other instances.
TW Cable, which launched a live TV app for the iPad earlier this month, is already facing cease-and-desist letters from some major programmers (but not ESPN). Meanwhile, YES Network is challenging whether
Cablevision Systems Corp.
(NYSE: CVC)'s just-launched iPad app, which provides more than 280 live TV channels, has authorization to deliver its linear channel to the Apple tablet.
For ESPN, timing is everything, as the app is being launched in time for ESPN's coverage of the early rounds of the Masters, the upcoming NBA playoffs, and the start of the Major League Baseball season.
For more
For more about cable's recent foray into the TV apps world and some of the scuttlebutt that has ensued, please check out these stories:
— Jeff Baumgartner, Site Editor,
Light Reading Cable
PARTNER PERSPECTIVES
- content from our sponsors