Comcast Corp. (Nasdaq: CMCSA, CMCSK) has released an app for the iPad that lets digital video subscribers use the tablet like a remote and search the MSO's video-on-demand (VoD) vault. Starting next month, it will also allow streaming video from HBO and other premium networks, via an upgrade. (See Comcast Launches iPad App.)

The launch of the Enhanced TV Binary Interchange Format (EBIF)-based "Xfinity TV" app comes about six months after company chairman and CEO Brian Roberts demonstrated it at The Cable Show in Los Angeles. Company president Neil Smit is showing off the commercial version today at the Web 2.0 conference in San Francisco. (See To Xfinity... & Beyond!)

Comcast, like Verizon Communications Inc. (NYSE: VZ), Dish Network LLC (Nasdaq: DISH), Cablevision Systems Corp. (NYSE: CVC), Time Warner Cable Inc. (NYSE: TWC), and AT&T Inc. (NYSE: T), is using the Apple tablet as a key navigation and content streaming component of their respective TV Everywhere strategies. (See

TelcoTV 2010:

Verizon Takes a Flex View of the Cloud, Cablevision's Ready for Streaming & Slinging, Cablevision to Deliver Live TV & VoD to iPad, Everyone's Mad About the iPad , and TWC Preaches Openness With iPad Tilt .)

Comcast recently launched its authenticated, PC-limited Xfinity TV Online service for digital video subs, starting off with 150,000 video "choices." However, not all of those titles will be offered on the iPad when Comcast introduces video streaming on the device next month. (See Comcast's TV Everywhere Play Breaks Out of Beta .)

A company spokesman said premium content from HBO (and Cinemax), Showtime Networks Inc. , and Starz Entertainment LLC (and Encore) will be offered on the iPad initially. Access to a broader amount of video will be offered over time though subsequent app upgrades.

For now, the app, offered for free on iTunes, lets subs scan the program guide, search for on-demand and linear video content, and program DVRs remotely, and create personal "Watchlists." Comcast plans to integrate social networking later.

As the architecture goes, the iPad sends requests over the Internet to the Comcast headend, which, in turn, sends EBIF commands to a customer's registered set-top boxes to complete the process.

But Xfinity TV app users had better keep their old remotes handy. To complete VoD transactions, for example, customers are still required to confirm viewing or purchase requests by pressing the select button on their legacy remote controls.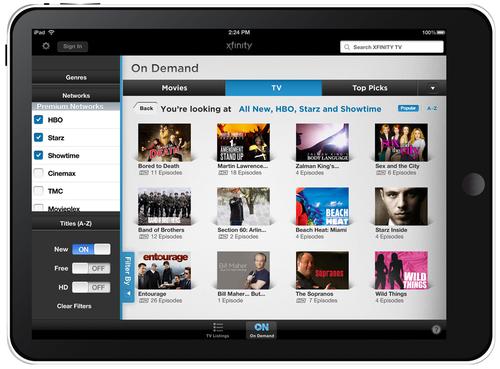 The 16.2-megabyte Xfinity App is also compatible with the iPhone and iPod Touch. Plans are underway to introduce "several" Android apps later this year.

Once downloaded and installed on the iPad, the Xfinity TV app directs for customers to sign in with their Comcast email and password. The app then assigns generic IDs to set-tops that are compatible with the application, but lets customers personalize how they are labeled.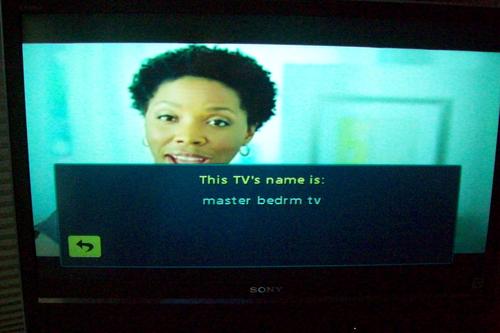 — Jeff Baumgartner, Site Editor, Light Reading Cable