App Focus: MobiTV's iPhone Streaming Success

Comment (4)
10:50 AM -- After weeks of playing the waiting game with
Apple Inc.
(Nasdaq: AAPL), mobile TV provider
MobiTV Inc.
finally found a place in the iPhone App Store this month. Featuring an iPhone-optimized user interface, live or on-demand content, and in-app purchases, MobiTV's iPhone app is its best implementation yet.
The details:
The free app includes limited live news and sports programming from broadcasters like ABC News NOW; on-demand content from NBC News, NBC Sports, MTV, Comedy Central, and Nickelodeon; stand-up comedy; and cartoons. Upgrading to a pseudo-subscription of a one, three, or six-month package of eight live TV channels and more than 30 channels of on-demand content will cost users $10, $25, or $45, respectively.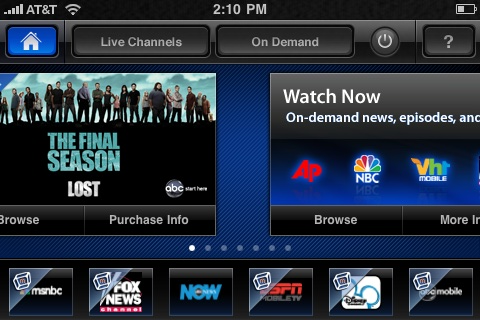 Why it stands out:
It's hard to build a business asking consumers to pay for mobile content, especially if they are already paying for it at home. MobiTV's mix of business models and quality of content is what helps it compete against companies like
Qualcomm Inc.
(Nasdaq: QCOM)'s FLO TV. MobiTV offers a variety of options of what to watch and a variety of ways to watch it, appeasing both the unwilling-to-pay browsers and the heavy users. For most, there's enough free content to peruse that, if you like what you see, paying the premium will be a no-brainer.
MobiTV's take:
Jay Hinman, MobiTV's senior director of Partner and Product Marketing, said that the company has been successful across all four carriers, but it's waited a long time to have its core product -- what he called the "first iteration of its next-generation platform" -- on the iPhone. MobiTV is also working on an app for the iPad, where the app store/mobile TV combo is also catching fire. (See
ABC Finds Success on iPad
.)
MobiTV is experimenting with several different business models to see what consumers want, according to Hinman, who said that the beauty of the app store is it enables multiple ways to reach (and bill) consumers, even if a pure month-to-month subscription isn't one of them.
Programming note:
Each week, I'll highlight a mobile app that is breaking onto the scene. They won't necessarily be the best sellers, but they will have best-seller potential. We'd like to know what mindless diversion or productivity-aiding app is consuming your mobile bandwidth this week. Email me at
[email protected]
.
— Sarah Reedy, Senior Reporter,
Light Reading Mobile