Aereo Offers a Free Taste
1:00 PM --
Aereo Inc.
launched a set of new subscription packages this week to complement the original tier ($12 per month) it started off with in New York City, and among them, a new, "free" option could play an important role in the startup's court battle with broadcasters. (See
Aereo Tweaks Pricing Plans
.)
That "Try for Free" option provides just a taste of the service by letting NYC-area residents sign in and use the service for one hour per day.
While that's one way to get people to try it out and maybe become paying customers, the decision also appears to be an appeal to the courts that what Aereo does (provide broadband-connected, remote access to 28 free, over-the-air broadcast TV signals using tiny antennas, combined with a network DVR) is in the so-called "public interest."
As
BTIG Research
analyst Richard Greenfield points out in his
blog (registration required)
, the judge who awarded Aereo a stay of execution while the court handles the case did make a point that Aereo's not providing anything for free. That's no longer the case. Sorta. Consumers who try Aereo for free will have to be choosey about which hour they tap in for free. Oh, and free access is "subject to capacity." Details, schmetails. (See
Judge Keeps Aereo on the Air
.)
"While Aereo prevailed, despite not serving the public interest, we suspect its ongoing court case will be strengthened by helping consumers access public broadcasting signals at no cost and with no credit card required," Greenfield wrote.
While getting access to an afternoon soap opera doesn't qualify that argument, perhaps this example, as outlined by Aereo, does: "In times of emergencies and breaking news, access to timely, live information is crucial. Aereo can serve as another avenue for the public to access that important information." Perhaps Aereo's onto something that just might save its young life.
Here's a snapshot of Aereo's new lineup of daily, monthly and annual subscription packages: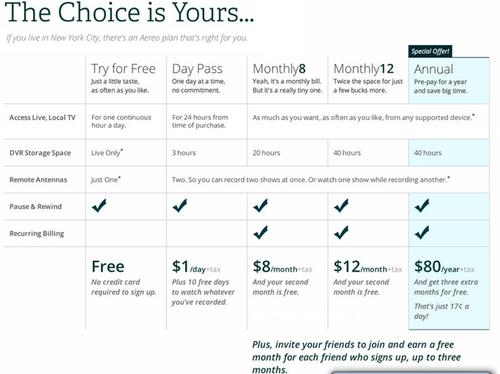 — Jeff Baumgartner, Site Editor,
Light Reading Cable