ETSI Gets Edgy About Mobile
Broader horizons
In tennis terms, not everyone involved in this business is targeting their serves at exactly the same spot. While the membership of the ETSI ISG, for instance, includes many of Europe's largest operators, it is missing Deutsche Telekom AG (NYSE: DT), the region's biggest. "We have a broader view," says a spokesperson for the operator, when asked why the German incumbent is not involved with ETSI in this area. "Their original version is bound to a 3GPP basestation, so they focus on mobile edge computing primarily … We believe in edge computing that is independent of the access."
It is not alone. Initiatives such as CORD (Central Office Reimagined as a Datacenter), Open Edge Computing and OpenFog have sprung up to explore visions of edge computing that are not based on a particular access technology. "A lot of the large integrated operators are asking 'why operate an edge environment that is specifically mobile?'" says Brown. "Instead, you could have a distributed cloud and run all types of applications from there, whether mobile, enterprise or residential."
On the vendor side, China's Huawei Technologies Co. Ltd. and Finland's Nokia Corp. (NYSE: NOK) have joined the ISG, giving it the necessary backing from major RAN (radio access network) suppliers to get started, but Ericsson AB (Nasdaq: ERIC) is a notable absentee. That seems surprising given the Swedish company's mobile focus, but Ericsson might also be thinking more generically about edge computing options. While a spokesperson confirmed it is not an ISG member, Ericsson has not answered questions about its reasons for staying out of the group so far.
ETSI insists that it has always had the bigger access picture in mind. The ISG, in its current format, is due to wrap up early next year (all ETSI ISGs have a finite lifetime of two years), but it plans to apply for a two-year extension to address WiFi and fixed access needs. This second phase of specifications work will require ETSI to open discussions with groups such as the Institute of Electrical and Electronics Engineers Inc. (IEEE) and Wireless Broadband Alliance that will take the ISG somewhat outside its comfort zone, acknowledges Neal. "Lots of our people are, or were, at the 3GPP and we understand that much better," he says.
In the meantime, ETSI is maintaining close dialogue with groups such as Open Edge Computing and OpenFog, believing they have valuable input to contribute in this field. But Neal quickly points out that none is an official standards body. "The only organization coming up with open standards and APIs [application programming interfaces] is ETSI," he says.
Those open APIs could prove critical to the adoption of mobile edge computing in a pre-5G environment. In a bid to attract developers, the ETSI ISG is producing APIs not only for the server platform but also for user applications. When these are finished in December or March, the hope is they will give rise to compelling use cases that telcos have not even envisaged. "We need to get people from the IT world involved, as well as consumer and enterprise marketeers," says Neal. "Differentiation will come from the funkiest apps that operators can provide."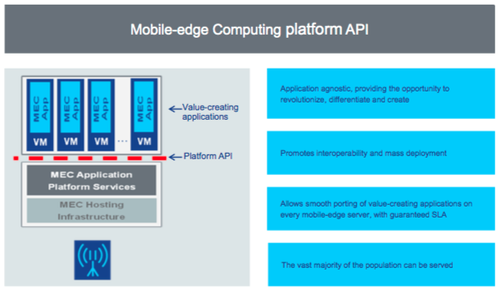 Typical use cases so far include deployments at sports stadiums, as in the Wimbledon tennis example, and with small cells on enterprise and campus networks, to support services such as asset tracking and high-speed intranet access. Despite its apparent resistance to joining ETSI's ISG, Deutsche Telekom flagged trials in November last year of vehicular services aimed at improving traffic control and road safety, using mobile edge computing technology from Nokia. Neal also thinks it could be deployed in shopping malls to alert consumers to special offers at nearby stores.
Yet Heavy Reading's Brown is not convinced that interest will translate into widespread deployments in the next couple of years. "With 5G, you will need it in some form, but that is a few years away and I'm not sure if there is a reason for it to scale quickly yet," he says. "In time, edge computing will be successful. The question is whether it will be what they call mobile edge computing right now."
— Iain Morris,

, News Editor, Light Reading
PARTNER PERSPECTIVES
- content from our sponsors