In an industry that grew fat off people's urge to talk, executives have themselves become conversational experts. Sessions overran at this week's MEC Congress in Berlin, as telecom operators and vendors endlessly debated the purpose and practicalities of redesigning networks. Yet despite the buzz that surrounds the concept of edge computing, there is little sign of bold action. Telcos are not much closer to the edge than during last year's conference. (See Will ETSI Lose Its Edge as Fog Rolls In?)
With Internet giants bragging about their own edge campaigns, there is now some danger that edge computing -- depending partly on how that gets defined by Internet companies and telcos -- goes down as another missed telco opportunity.
The inertia owes much to the still-dubious business case around edge computing. Under the basic premise, the IT resources typically found in a cloud data center would be redeployed at various points in a telco's access network, much closer to end users. Unless operators make this change, the long distances between the network edge and a central IT facility would stop them from providing the low-latency services that set tongues wagging at industry events, such as connectivity for self-driving cars, say edge advocates. But the return on investment associated with this re-architecting is far from certain.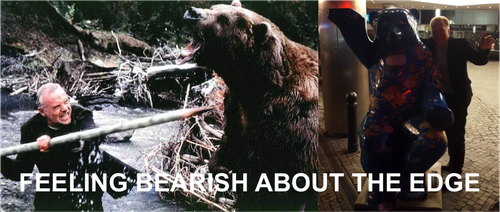 For a start, the cost of building an edge-computing network could be astronomical. While telcos have not bandied about any estimates, Kye Prigg, the Vodafone UK head of mobile networks, reckons edge computing and backhaul could account for much of the investment that operators are forced to make as they prepare for 5G. Iain Gillott, the president of research house iGR, believes companies could spend as much as $272 billion on edge computing in Europe and the US over the next decade -- even more than the $254 billion they pump directly into 5G during that period.
Telcos understandably worry that customer spending on edge services will not flow back into their coffers. Although edge computing could lead to new opportunities in the "Internet of Things," analysts fear that connectivity revenues in this market could be marginal.
The paucity of services that require low latency could also explain operator wariness at this stage. "There are not that many applications at this point in time that need ultra low latency, although potentially there will be," says Gabriel Brown, a principal analyst with the Heavy Reading market research group. "Venue-type services, such as point-of-view player cams at sports events, or command-and-control industrial automation systems, probably deployed on premises, are among the early candidates."
US telco giants AT&T Inc. (NYSE: T) and Verizon Communications Inc. (NYSE: VZ), both of which are pioneering the rollout of next-generation network technologies, are fueling much of the edge interest. AT&T, for instance, has been the driving force behind CORD, an initiative led by the Open Networking Foundation that sees operators repurposing their network facilities as edge data centers. The US telco is also now making investments in a cloud radio access network (RAN), which involves stripping cell towers of their baseband processors and rehousing these in edge data centers to improve efficiency.
In other parts of the world, however, operators do not have access to the high-performance fiber networks this redesign demands (for backhaul purposes). What's more, their vast geographical footprints give AT&T and Verizon greater incentive to make edge investments than operators in much smaller territories, such as Belgium, or even the UK. "Customers in those markets might already be physically close to the network core and all the content," says Brown. "Deploying in that gap can be expensive and messy, and in a 4G environment how much benefit do you get?" (See Europe's Backhaul Black Hole Looms Above 5G.)
The rollout of 5G technology could be the trigger, says Brown. "Where you are deploying edge compute for network functions, such as cloud RAN and distributed core, then it can make sense to also host services at these same locations," he says. "In principle, you can map packet processing to radio resources to really optimize efficiency and performance. This is the kind of capability you might need for a high-performance network slice, but that kind of integrated architecture is still some way from being realized."
Next page: Too many cooks?
Too many cooks?
Organizations trying to come up with standardized approaches to edge computing may inadvertently be exacerbating complexity and sowing confusion. At last year's MEC Congress, the European Telecommunications Standards Institute (ETSI) and a group called the OpenFog Consortium were the most prominent associations. This year the limelight on several occasions turned on CORD, Open Edge Computing and even Facebook's Telecom Infra Project, which looks increasingly active in the edge computing area. (See Edge Funds: Show Me the Money!)
While organizations insist they are working together harmoniously, and not stepping on one another's toes, the lack of consistent terminology mirrors the different and evolving visions they have. ETSI would clearly prefer its initiative to be called "edge computing," to reflect the broadening of its technology view, but is lumbered with the MEC acronym after originally christening it "mobile edge computing." Instead it has awkwardly substituted "multi-access" for "mobile." (See ETSI Drops 'Mobile' From MEC.)
Yet even the "edge" part is anachronistic to some. The OpenFog Consortium is a vehicle that IT giants including Intel Corp. (Nasdaq: INTC) and Microsoft Corp. (Nasdaq: MSFT) are steering into the fray. In their "fog computing" vision, IT resources could be stored at any number of points along a network, and not just in the access part. A self-driving car could be a fog node, for instance, as could a central data center. For others, the term "distributed cloud" better sums up what these various efforts are trying to accomplish.
The mushrooming of groups certainly does not mean that ETSI is incompatible with OpenFog, say. But it will inevitably put more stakeholders around the negotiating table, forcing each group to maintain numerous relationships to avoid any risk of industry discord. Interoperability emerged as a pressing concern at this year's MEC World Congress. Even within ETSI, an overlap between the work of the MEC group and that of a separate NFV (network functions virtualization) initiative has yet to be fully addressed. (See Edge Computing Groups Wrestle With Interoperability.)
Despite his involvement in the Open Edge Computing initiative, Deutsche Telekom AG (NYSE: DT)'s senior vice president of business operations for group innovation expressed his frustration with this proliferation of groups during the Berlin conference. Addressing a panel that featured representatives from ONF, OpenFog and ETSI, Thomas Gerszberg, who also represents the Open Edge Computing initiative, said: "From the operator perspective the first question is how I can sell this great asset that is edge computing. So far you are not helping a lot because there are so many acronyms… It is natural that we ended up with many concepts and many competing solutions, because, if you get money for innovation, you need to promise that you will improve your position for this innovation."
---
For the latest developments in the mobile networks and services market, visit the dedicated mobile content channel here at Light Reading.
---
Apparently keen to get moving, the German incumbent has now launched its own edge computing initiative called Low Latency Prototyping. Through an incubator program for startups known as hub:raum, which has been in place for several years, Deutsche Telekom has been inviting interest from companies in fields such as industrial robotics, virtual and augmented reality, drone steering, retail shop automation and autonomous driving. A kick-off meeting in Berlin is scheduled for late October. "If we talk about low-latency computing we need to manage performance end to end," said Gerszberg. "I believe it will come in Deutsche Telekom's network very soon."
In the meantime, the most active player in the edge computing market is not a telco but an Internet giant. "The thing that has momentum right now is Greengrass," says Heavy Reading's Brown, referring to the edge-computing program that Amazon Web Services Inc. (AWS) has launched.
Indeed, large commercial companies are already using the Greengrass service. In one example, a major mining organization has installed Greengrass gateways in semi-autonomous trucks so that it can process and respond to information about road conditions in remote locations. The idea is to reduce wear and tear on tires and thereby lower costs, says Satyen Yadav, the general manager of IoT services for AWS. "Greengrass is an extension of the cloud service and today it is quickly bringing services to different regions," he said during a presentation at the MEC World Congress. "Thanks to partners and ecosystem developers, we can build this quickly."
There seems little doubt that a distributed cloud architecture will be vital in future in a multitude of scenarios. The question is whether different stakeholders can work together to minimize the pain of this overhaul, and bring operators and application developers together at an early-enough stage. Telcos have already been squeezed by Internet companies in once-lucrative markets. They do not want to get pushed off the edge.
— Iain Morris, News Editor, Light Reading