Edge Inertia Grips Telcos as Rival Interests Jockey for Position
In an industry that grew fat off people's urge to talk, executives have themselves become conversational experts. Sessions overran at this week's MEC Congress in Berlin, as telecom operators and vendors endlessly debated the purpose and practicalities of redesigning networks. Yet despite the buzz that surrounds the concept of edge computing, there is little sign of bold action. Telcos are not much closer to the edge than during last year's conference. (See Will ETSI Lose Its Edge as Fog Rolls In?)
With Internet giants bragging about their own edge campaigns, there is now some danger that edge computing -- depending partly on how that gets defined by Internet companies and telcos -- goes down as another missed telco opportunity.
The inertia owes much to the still-dubious business case around edge computing. Under the basic premise, the IT resources typically found in a cloud data center would be redeployed at various points in a telco's access network, much closer to end users. Unless operators make this change, the long distances between the network edge and a central IT facility would stop them from providing the low-latency services that set tongues wagging at industry events, such as connectivity for self-driving cars, say edge advocates. But the return on investment associated with this re-architecting is far from certain.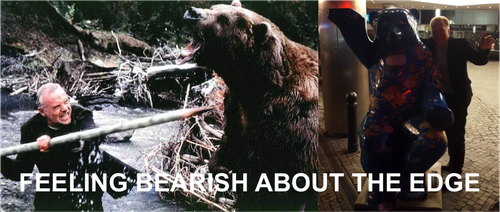 For a start, the cost of building an edge-computing network could be astronomical. While telcos have not bandied about any estimates, Kye Prigg, the Vodafone UK head of mobile networks, reckons edge computing and backhaul could account for much of the investment that operators are forced to make as they prepare for 5G. Iain Gillott, the president of research house iGR, believes companies could spend as much as $272 billion on edge computing in Europe and the US over the next decade -- even more than the $254 billion they pump directly into 5G during that period.
Telcos understandably worry that customer spending on edge services will not flow back into their coffers. Although edge computing could lead to new opportunities in the "Internet of Things," analysts fear that connectivity revenues in this market could be marginal.
The paucity of services that require low latency could also explain operator wariness at this stage. "There are not that many applications at this point in time that need ultra low latency, although potentially there will be," says Gabriel Brown, a principal analyst with the Heavy Reading market research group. "Venue-type services, such as point-of-view player cams at sports events, or command-and-control industrial automation systems, probably deployed on premises, are among the early candidates."
US telco giants AT&T Inc. (NYSE: T) and Verizon Communications Inc. (NYSE: VZ), both of which are pioneering the rollout of next-generation network technologies, are fueling much of the edge interest. AT&T, for instance, has been the driving force behind CORD, an initiative led by the Open Networking Foundation that sees operators repurposing their network facilities as edge data centers. The US telco is also now making investments in a cloud radio access network (RAN), which involves stripping cell towers of their baseband processors and rehousing these in edge data centers to improve efficiency.
In other parts of the world, however, operators do not have access to the high-performance fiber networks this redesign demands (for backhaul purposes). What's more, their vast geographical footprints give AT&T and Verizon greater incentive to make edge investments than operators in much smaller territories, such as Belgium, or even the UK. "Customers in those markets might already be physically close to the network core and all the content," says Brown. "Deploying in that gap can be expensive and messy, and in a 4G environment how much benefit do you get?" (See Europe's Backhaul Black Hole Looms Above 5G.)
The rollout of 5G technology could be the trigger, says Brown. "Where you are deploying edge compute for network functions, such as cloud RAN and distributed core, then it can make sense to also host services at these same locations," he says. "In principle, you can map packet processing to radio resources to really optimize efficiency and performance. This is the kind of capability you might need for a high-performance network slice, but that kind of integrated architecture is still some way from being realized."
Next page: Too many cooks?
PARTNER PERSPECTIVES
- content from our sponsors