Mobile edge computing (MEC) is rising up the telco agenda even if it is not yet considered to be as strategically important as other next-generation technologies, judging by the results of a new Light Reading poll.
Asked if they thought MEC is near the top of any service provider agendas, only 30% of readers agreed the technology is attracting as much attention as 5G, NFV and security. Another 24% reckon it is becoming more of a talking point, albeit not yet at CXO level.
But 18% of respondents think operators are still relatively ignorant when it comes to MEC, saying telco executives "know about it … only as a concept." And 28% seem baffled by it themselves, choosing "mobile edge what?" in response to Light Reading's question.
A total of 675 respondents participated in the survey about MEC.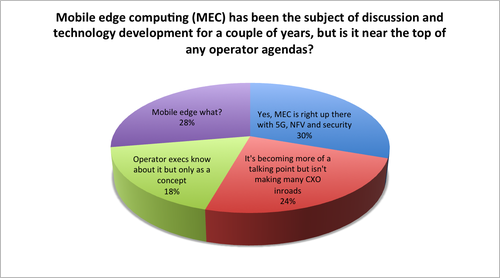 Broadly speaking, the technology is supposed to let operators put their IT resources near basestations, at the network's "edge," rather than in more centralized data centers. By reducing network latency and boosting performance, that move -- it is hoped -- will open up new service opportunities.
Due to various technical and business challenges, however, the concept of edge computing has not yet taken off in a real-world setting. The European Telecommunications Standards Institute (ETSI) is now working on formal specifications for the technology, and has recently broadened its remit to cover non-mobile access networks, addressing demands for a more all-encompassing vision of edge computing.
---
For all the latest news from the wireless networking and services sector, check out our dedicated mobile content channel here on Light Reading.
---
Even so, MEC faces a challenge from other technology concepts and ideas about network evolution. At the forefront of those is fog computing, whose proponents believe that some IT resources can be moved even closer to the end user, into the devices themselves.
ETSI has been quick to fend off the suggestion that it might get sidelined by alternative initiatives and has recently formed alliances with other groups active in this area.
Uncertainty over the form that edge computing eventually takes could explain the wariness of some poll respondents.
For a selection of recent stories about MEC, see:
— Iain Morris,

, News Editor, Light Reading