Poll: Savings Drive C-RAN Deployments
Like most new technologies, the biggest driver for deploying a cloud, or a centralized, radio access network (C-RAN), is the cost savings it can bring -- both from a capex and opex perspective, with the latter viewed as slightly more important.
That is what the majority of the 400 Light Reading community members who took our recent poll on C-RAN in LTE-Advanced told us. When asked, "What is the most important driver for operators to deploy a centralized or cloud radio access network (CRAN)?," 27% choose opex reduction through centralization, while another 24% said capex reduction through NFV. (See CRAN in LTE-Advanced.)
Amongst the technology benefits, 22% thought more flexibility in the network was most important, while 12% voted for greater scalability and only 8% and 4% thought the potential to deploy radios closer to users or reducing baseband processing requirements, respectively, was most important.
Here's another look at the poll results, excluding the 3% who voted "other."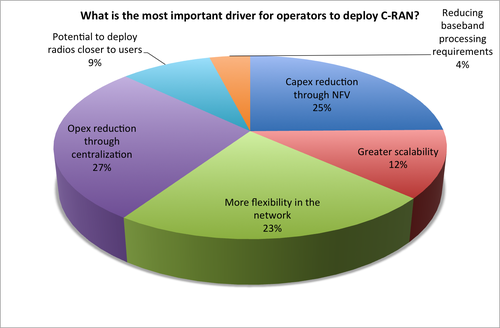 The good news is, C-RAN promises all of the above and more. A true C-RAN is essentially NFV applied throughout the RAN -- centralizing and virtualizing the processing functions that are traditionally done on hardware at each individual cell site. Heavy Reading says this concept of a centralized or cloud RAN is based on the "idea of a centralized baseband processing pool serving 'n' number of distributed radio access nodes." It's considered a crucial part of LTE-Advanced and, eventually 5G. (See Time for Some New Acronyms for CRAN and C-RAN Blazes a Trail to True 4G.)
A number of operators, including AT&T Inc. (NYSE: T), Orange (NYSE: FTE), China Mobile Ltd. (NYSE: CHL), SK Telecom (Nasdaq: SKM) and SoftBank Corp. are deploying C-RAN at various stages, but it's relatively early days for most outside of China. Verizon Communications Inc. (NYSE: VZ) CFO Fran Shammo said on its second quarter earnings call today that it saw it as a potential way to make its network more efficient. (See Verizon Trumpets Network Densification Plans.)
Rural Kansas vendor Nex-Tech Wireless was able to achieve 50% cost savings and get up and running in nine weeks with a C-RAN-based small cell system at a stadium in its footprint. (See C-RAN Small Cell Notches a Stadium Win.)
---
For more on C-RAN, visit the dedicated fronthaul/C-RAN here on Light Reading.
---
C-RAN hasn't been the buzziest of network technologies -- only 3% said it was going to be a hot topic at Mobile World Congress in February, for example, while its cousin NFV stole the scene -- but it's nonetheless an important one. It's crucial for not only saving operators money in their network deployments, but also to make their networks more flexible, scalable and responsive, thus improving the customer service. (See Poll: NFV/SDN, 5G & IoT to Dominate MWC.)
For vendors, it's part of what's been an ongoing shift from hardware to software, but it's a particularly important -- and disruptive -- one. Heavy Reading suggests it could forever change both the economics of the wireless network and how equipment is designed and networks are deployed. (See Altiostar Launches 4G C-RAN Solution, Samsung Unveils C-RAN2.0 and Altiostar & Wind River Develop NFV C-RAN.)
— Sarah Thomas,

, Editorial Operations Director, Light Reading