Also in today's EMEA regional roundup: Telefónica hooks up with MTN; TeliaSonera takes a Q4 hit on Eurasian withdrawal; UK fiber moves.
Ericsson AB (Nasdaq: ERIC) and Huawei Technologies Co. Ltd. have agreed to extend their global patent cross-license agreement, with Huawei committed to an ongoing royalty payment to the Swedish vendor from 2016 onwards, based on actual sales. The agreement covers patents relating to both companies' wireless standard-essential payments, and will enable each company to access and implement the other's standard-essential patents and technologies globally. (See Ericsson, Huawei Extend Global Patent Deal.)
Telia Company 's tactical withdrawal from the Eurasian region will incur an impairment charge of 5.3 billion Swedish kroner (US$621 million) relating to former operations in Uzbekistan in the fourth quarter of 2015. In December it completed another phase of its withdrawal from the region, when it announced the divestment of Ncell in Nepal. (See TeliaSonera to Quit Eurasia, Focus on Europe.)
CityFibre , the infrastructure provider that is challenging BT on the UK fiber front, has revealed that the city of Bristol is next in line to receive the Gigabit City treatment. The company plans to exploit 82km of pure fiber network assets that it picked up in its acquisition of a good chunk of KCOM's networks. Triangle Networks, a locally based ISP, will be the launch partner. Bristol has a reputation as one of the UK's most go-ahead cities, and has embarked on one of the most ambitious smart city programs in the world. (See CityFibre Takes On BT With $136M KCOM Acquisition, Eurobites: Glasgow Gets the Gigabit Treatment, CityFibre's Gigabit Vision, UK Needs Fiber Infrastructure Rivalry – CityFibre and Smart Cities: Power to the People.)
Meanwhile, another UK fiber challenger, Gigaclear , has secured a €25 million ($27.2 million) loan from the European Investment Bank, which will be used to support its expansion plans in 2016. Gigaclear has so far installed fiber outside more than 15,000 properties in rural parts of Oxfordshire, Essex, Northamptonshire, Berkshire and Gloucestershire, and it reckons that eventually 1.5 million properties in the UK could benefit from its services. (See UK's Gigaclear Raises $46M for Rural Gigabit.)
France's Numericable-SFR is looking for a new CEO to replace Eric Denoyer, reports Reuters. The operator has been losing customers in recent months, says the report.
Netcracker Technology Corp. has notched up a couple of European contract wins: In the UK, Telefónica UK Ltd. (O2) has agreed to extend the use of the vendor's Revenue Management offering to support a nationwide smart metering program; and further east Slovak Telekom has chosen the same product to handle its newly converged fixed and mobile billing operations. (See O2 Uses NetCracker to Support Smart Metering and Slovak Telekom Picks NetCracker's BSS.)
It's more of a parish notice than an actual piece of news but it probably deserves a mention: Today is the first day of Nokia Corp. (NYSE: NOK) and Alcatel-Lucent (NYSE: ALU) 's combined operations. The deal has -- and we promise never to use this pun again -- reached the Finnish line. (See Finn de Siècle for Alcatel-Lucent and Nokia + AlcaLu: What the Analysts Say.)
Orange (NYSE: FTE) CEO Stephane Richard is still having trouble shaking the dust of a years-old financial scandal from his loafers. Reuters reports that he has been summoned to appear before a special disciplinary tribunal next week in connection with the furore that surrounded a compensation payment made in 2008 to businessman Bernard Tapie, when Richard was working for the then finance minister, Christine Lagarde.
The European Parliament has backed proposed EU regulation that will force companies identified as offering essential services across the 28 member states to take action to make themselves more hack-proof. The proposed regulation still needs to be endorsed by the Council and the full Parliament.
Belgium's Proximus has signed a partnership agreement with carmaker Audi which will see all new Audis (or at least the ones equipped with Audi Connect) provided with an Internet connection via Proximus's 3G and 4G network. Drivers will be able to access a range of online services, including maps, music streaming and travel information. The cars will be fitted with a special data SIM card to make this possible.
Sky may have made some friends but irritated others with its decision to donate an unspecified sum to the charity behind the controversial London Garden Bridge project. The proposed bridge, which will be stuffed with greenery and for pedestrians only, crosses the River Thames between Temple and the South Bank and has been slammed by some as an unwanted vanity project.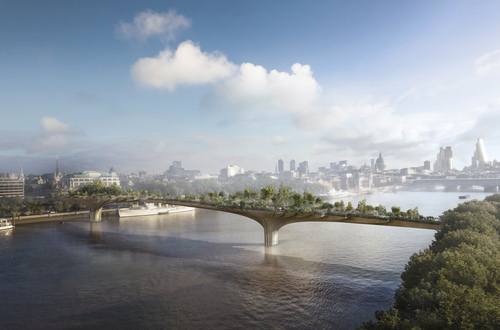 — Paul Rainford, Assistant Editor, Europe, Light Reading